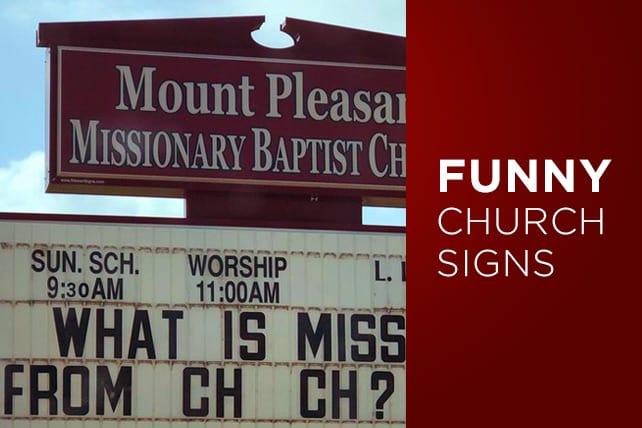 Churches have to be creative these days to boost attendance. There are several churches that are trying clever remarks and pithy comments to compel visitors to come. These funny church signs range from clever, to punny, to flirting with offense. They will assure you the creative spirit is alive and well in Christ's church.
Whichever way you look at them, though, you have to hand it to the sign guy or gal. They certainly are thinking outside the box!
21 Funny Church Signs
---
This one was obviously written by the associate pastor…
Funny #churchsigns pic.twitter.com/ZyAGqdDNVs

— Where True Love Is (@WhereTrueLoveIs) March 14, 2018
Whoa. So deep.
This is almost enough for me to make an exception to my no-church-message-board policy. #churchsigns pic.twitter.com/OL889uBMzw

— Aaron Telecky (@AaronTelecky) March 22, 2018
Correction: The church does not kill people.
I didn't realize this was a twitter thing. So, this is a good one from a few years ago in our small town. #churchsignspic.twitter.com/xbMPnte9HX

— Steve Consley (@SteveConsley) March 4, 2018
No one can accuse this church of false advertising.
@JeremyMcGarity I know how much you love church signs. #churchsigns pic.twitter.com/jpEyYCbmKq

— Holly Watson (@JCsSrvntGrl) March 4, 2018
This one really pushes the boundaries on being relevant…
#churchsigns I wanna try pic.twitter.com/X4bgKcmbXZ

— Dj fresh (@djfresham) March 11, 2018
What a relief that will be!
no glocks in heaven 🚫🔫🙏🏼 #churchsigns pic.twitter.com/Lq1dDlgmrP

— rebecca (@rebeccald_) March 2, 2018
Seriously, though, just come already.
The Word of the Lord #churchsignspic.twitter.com/atp2pyWKWX

— Chalon Elvin Lee (@CFlann43) March 17, 2018
They're not wrong…
You'll be happy to know there are no politics in heaven. Have a happy Sunday. #ChurchSigns #Advice4Life pic.twitter.com/znL8ZAPv46

— Van Richards (@VanRichards) March 11, 2018
In your face, devil!
#ChurchSigns pic.twitter.com/OlerqcfIuT

— Where True Love Is (@WhereTrueLoveIs) March 5, 2018