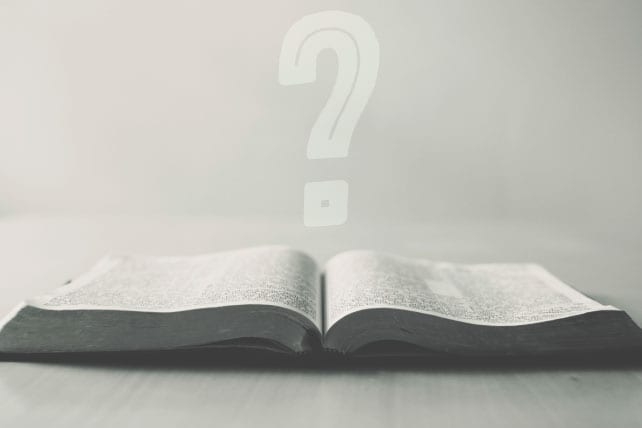 What God says about his word is a deep, complex and staggering thing. And each book of the written word testifies to the wonder of his revelation. I decided to take a look, book by book, selecting a representative passage from each to highlight many of the things God's word says about God's words.
The word of God is…
Effectual
Genesis 1:3 – And God said, "Let there be light," and there was light.
Personal
Exodus 6:2 – God spoke to Moses and said to him, "I am the Lord."
Authoritative
Leviticus 20:22 – You shall therefore keep all my statutes and all my rules and do them, that the land where I am bringing you to live may not vomit you out.
Exclusive
Numbers 15:31 – Because he has despised the word of the Lord and has broken his commandment, that person shall be utterly cut off; his iniquity shall be on him.
Necessary
Deuteronomy 8:3 – And he humbled you and let you hunger and fed you with manna, which you did not know, nor did your fathers know, that he might make you know that man does not live by bread alone, but man lives by every word that comes from the mouth of the Lord.
Rewarding
Joshua 1:8 – This Book of the Law shall not depart from your mouth, but you shall meditate on it day and night, so that you may be careful to do according to all that is written in it. For then you will make your way prosperous, and then you will have good success.
Singable(!)
Judges 5:11 – To the sound of musicians at the watering places,
there they repeat the righteous triumphs of the Lord,
the righteous triumphs of his villagers in Israel.
Redemptive
Ruth 4:14-15 – Then the women said to Naomi, "Blessed be the Lord, who has not left you this day without a redeemer, and may his name be renowned in Israel! He shall be to you a restorer of life and a nourisher of your old age, for your daughter-in-law who loves you, who is more to you than seven sons, has given birth to him."
Decisive
1 Samuel 15:23 – Because you have rejected the word of the Lord,
he has also rejected you from being king.
Infallible
2 Samuel 22:31 – This God—his way is perfect; the word of the Lord proves true; he is a shield for all those who take refuge in him.
Reliable
1 Kings 17:24 – And the woman said to Elijah, "Now I know that you are a man of God, and that the word of the Lord in your mouth is truth."
Convicting
2 Kings 22:11 – When the king heard the words of the Book of the Law, he tore his clothes.
Enduring
1 Chronicles 16:12,15 – Remember the wondrous works that he has done,
his miracles and the judgments he uttered… Remember his covenant forever,
the word that he commanded, for a thousand generations.
Preeminent
2 Chronicles 18:4 – And Jehoshaphat said to the king of Israel, "Inquire first for the word of the Lord."
Practical
Ezra 7:10 – For Ezra had set his heart to study the Law of the Lord, and to do it and to teach his statutes and rules in Israel.
Proclamation
Nehemiah 8:2-3 – So Ezra the priest brought the Law before the assembly, both men and women and all who could understand what they heard, on the first day of the seventh month. And he read from it facing the square before the Water Gate from early morning until midday, in the presence of the men and the women and those who could understand. And the ears of all the people were attentive to the Book of the Law.
Peculiar
Esther 3:8 – Then Haman said to King Ahasuerus, "There is a certain people scattered abroad and dispersed among the peoples in all the provinces of your kingdom. Their laws are different from those of every other people, and they do not keep the king's laws, so that it is not to the king's profit to tolerate them."
Miraculous
Job 37:5 – God thunders wondrously with his voice; he does great things that we cannot comprehend.
Illuminating
Psalm 119:105 – Your word is a lamp to my feet and a light to my path.