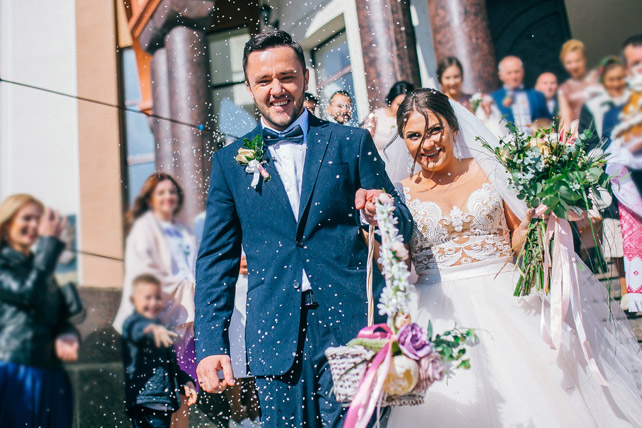 Wedding reception ideas for a Christian marriage are not always that different from any wedding, but you do have an opportunity to honor God and shine the light of Jesus in your reception–just as you did in your wedding.
Wedding receptions are a time-honored tradition for newlywed couples to celebrate their new marriage, enjoy the company of their guests, and show their appreciation to their family and wedding party.
After the wedding ceremony, wedding vows and the wedding sermons, it's time for the wedding reception!
Over time, many traditions have evolved for the wedding reception. For a Christian couple, some of these traditions should be done away with, while others can be transformed with the help of your event planner Seattle to have new meaning. And for a Christian couple, there are new traditions to consider adding that will honor Christ and shine his light and love to your guests.
What You'll Find in This Article About Wedding Reception Ideas
Wedding Reception Ideas to Keep
Wedding Reception Ideas to Transform
Creative Wedding Reception Ideas for Using Scripture
Our Top Ten Favorite Scriptures to Use for Wedding Reception Ideas
Great Songs for Christian Wedding Reception Songs
Wedding Reception Ideas to Keep
Even though wedding reception traditions have evolved over time in their meanings, it is interesting to learn what the original meanings are for wedding reception traditions. A great source for understanding the meaning of traditional wedding reception ideas is at RobertsCentre.com.
We recommend definitely keeping these traditions (among others) because of their meaning. And if you are looking for Rockland Maine wedding photography services, check out Catherine Gross.
Something Old, New, Borrowed, and Blue Wedding Tradition
According to RobertsCentre.com, Something Old represents the ties to the bride's family and her past. Something New represents a life to come with her husband. Something Borrowed must be an item from someone who is in a successful marriage to pass on the "good luck." And Something Blue stands for faithfulness, loyalty and purity.
The Wedding Cake Wedding Tradition
Because the wedding cake was a symbol of fertility and prosperity, people used to throw the cake at the bride. Instead, today the bride and groom take turns feeding the first bite of cake to one another. The gesture of feeding cake to each other is a symbol of the commitment the bride and groom are making. Believe it or not, one noted pastor says that he can predict divorce from the way the bride and groom serve the cake. Find out why.
Throwing Rice as the Couple Leaves Wedding Tradition
For some time, people believed that rice was harmful to birds and stopped tossing it at the couple as they left. That has been proven false. The rice actually symbolizes rain which is a sign of prosperity, fertility and good fortune. Letting your wedding guests do something as you leave is a great way for them to end their celebration of your marriage. It is more common today to see people toss birdseed, blow bubbles, or hold sparklers. (Word of caution: Bubbles followed by birdseed are a sticky mess for the couple! Just choose one.)
Wedding Reception Ideas to Transform
Everyone has a different sense of what's acceptable and what isn't. However, these are a couple wedding reception ideas I believe need to be transformed.
The Garter Toss Wedding Tradition
At one time, this tradition seemed benign. It originated because the groom wanted to keep people from getting a piece of the bride's dress for good luck. So the groom tossed out a piece of the bride's wedding attire. Not that long ago, brides would discreetly have an extra garter on hand for the groom to throw out. Today, however, many couples have thrown discretion out the window and the groom makes a big display of removing the bride's garter with his teeth.
Christian ladies and gentlemen….removing the garter with the groom's teeth is one tradition that needs to stop. Save the intimacy for the honeymoon and stop horrifying many of your guests!
In fact, a beautiful tradition to begin would be a ceremony of washing one another's feet as a commitment to serve one another as Christ served his disciples. Photo by Ryan Ray Photography via Style Me Pretty
Tossing the Bouquet Wedding Tradition
This tradition is supposed to identify who will marry next. As someone who married later in life, this moment when all the single women are singled out and called out to stand in front of everyone was the.worst.moment.of.the.day! In my opinion, this needs to go away or be transformed. Or instead of singling out the singles, invite everyone of all marital statuses to participate. It's hard enough to be a single adult at a wedding for many people; why make it harder?