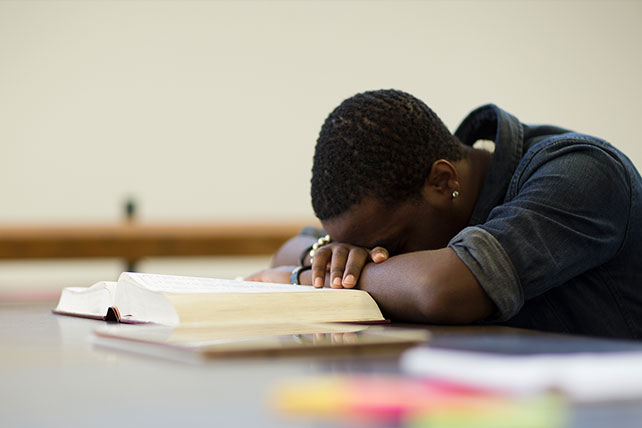 In the classic play, Fiddler on the Roof, a husband and wife have two daughters who have both fallen in love. The husband, noticing how happy the daughters are, turns to his wife and asks her, "Do you love me?" She responds:
Do I love you? For twenty-five years I have washed your clothes, cooked your meals, cleaned your house, given you children, milked the cow. After twenty-five years, why talk about love right now? Do I love him? For twenty-five years I have lived with him, fought with him, starved with him. Twenty-five years my bed is his. If that's not love, what is?
…to which the husband nervously mutters, "Then you love me?"
Clearly, the wife is missing the essence of love. For love is complete, love is at its most healthy place, when the duties of love are driven by the delights of love.
In some ways, the wife in Fiddler on the Roof is a parable for all of us. Caught up in the pressure of daily responsibilities, distractions, and the tyranny of the urgent, our most important relationships—the ones that once made us come alive and were the source of our deepest joy—become dull and flat. What used to bring us delight becomes mere duty. What used to stir our affections becomes an annoyance. What used to be our most tangible experience of grace becomes poisoned by grudges. What used to be face-to-face becomes side-to-side at best, or back-to-back at worst.
When we the duties of love overshadow the delights of love, intimacy and companionship are eclipsed by loneliness. And? It's not just human relationships that experience this erosion of joy. It also happens in our relationship with God.
When we lose our intimacy with God, it's not because God has shifted. In these moments and seasons of distance, we can truly say to him, "It's not you, it's me."
Consider Jesus' dear friend, Martha:
Now as they went on their way, Jesus entered a village. And a woman named Martha welcomed him into her house. And she had a sister called Mary, who sat at the Lord's feet and listened to his teaching. But Martha was distracted with much serving. And she went up to him and said, "Lord, do you not care that my sister has left me to serve alone? Tell her then to help me." But the Lord answered her, "Martha, Martha, you are anxious and troubled about many things, but one thing is necessary. Mary has chosen the good portion, which will not be taken away from her (Luke 10:38-42).
Like the wife in Fiddler on the Roof, Martha is emotionally and relationally impaired by performance fatigue. Working hard and working alone to serve the guests, her frustration and anxiety are palpable. She is "busy with much serving," and for this, she has often been criticized. But I don't think Jesus was criticizing her for being busy.
The Greek word Jesus uses for Martha's "serving" is diakoneo, which is used positively every place it shows up in the Bible. When Jesus described himself, declaring that he came not to be served but to serve and to give his life as a ransom for many, he used the word diakoneo (Matthew 20:28). When the Apostle Paul lays out the qualifications for deacons, a role of help and service in the church, this is the word that he uses (1 Timothy 3:8). When he commends Phoebe as a faithful servant in her local church, he calls her a diakonon (Romans 16:1).
So, lest we wrongly dismiss Martha for somehow being untrue to Jesus, let's consider her hard work. She is welcoming her guests, after all. She is practicing the gospel virtue of hospitality. Let's also consider the understanding and grace that Jesus extends to her. When he addresses her, Jesus says her name twice. "Martha, Martha." The repetition of a person's name in Semitic language was a term of endearment. Jesus was pleading with her, not scolding her as if she were some sort of rebel. "Martha, Martha" is Jesus' gesture of compassion and kindness to Martha, and also to us.
Martha, Martha…
…before you try to change the world, you must first let me change you.
…before you make your mark on others, you must first let me make my mark on you.
…before you get busy to make things better, you must first let me make you better.
…before you can serve and feed me, you must first let me serve and feed you.
You see, Martha's affliction is not that she is a busy-body. Her affliction is that she has a busy heart. She is distracted with much serving, and because of this, her very legitimate, life-giving diaconal service is spoiled. She is working from a chaotic center. She is seeking to create order from a cluttered core. She is so busied with and distracted by secondary things, that she has lost touch with the first thing—which is the love that brought her into friendship with Jesus in the first place.
I know your good works, your toil…I know you are enduring patiently and bearing up for my name's sake, and you have not grown weary. But I have this against you, that you have abandoned the love you had at first. Remember therefore from where you have fallen; repent (Revelation 2:1-7).
Jesus' words to the church at Ephesus were compelled by the same longing he had for Martha. More than he wanted Martha's service, he wanted Martha's face. More than he wanted her activity, he wanted her heart.
In a similar way, Jesus sees us in our eagerness to be faithful, in our efforts to make a meaningful contribution to his kingdom. He sees our hard work, our loyalty and devotion, our endurance. He sees us walking side by side with him. And he also sees how invisible we sometimes feel in our efforts to please and impress.
Said Martha, "Lord, do you not care…?"
Said the dutiful elder son to his Father, "These many years I have slaved for you, and I never disobeyed your orders, yet you never gave me a young goat, that I might celebrate with my friends" (Luke 15:29).
Do you hear the cry beneath the cries of Martha and the resentful son? If we listen closely, we will see that they are both after something more than mere relief from their work. What they want, what they feel that they are missing, is recognition. Affirmation. Approval. Affection. A smile. A benediction. For someone to say to them, "Well done, good and faithful servant."
Once one of our daughters asked me to watch her as she read a book…silently.
But she was after something more than a mere audience for her silent reading adventure. What she wanted most was a blessing. She wanted to hear me tell her how impressed I was that she could read a book all by herself. That she could do no wrong. That she was awesome. She wanted to hear her Dad say, "Well done."
There's something in all of us, isn't there, that is just dying to be watched, to be looked at, to be seen, and to hear the "Well done," yes?
But the resentful son was deafened to his Father's affirmation, to his bold declaration, "All I have is yours." Martha, likewise, was numb to Jesus' tender, double repetition of her name. And so they both leaned hard on their busyness, their productivity, their something-to-show-for-it postures, as a last ditch effort to secure a recognition that was already theirs.
In Jesus, the "Well done" comes before we do anything for him. It comes to us at the start of our journey with Jesus versus at the end. For Martha and the elder brother, the word from God is, "All that I have is already yours. So come sit with me. Enter my rest."
And this is also the word from God for us.
"Come to me, all you who are weary and burdened," Jesus said, "and I will give you rest."
Let's go find rest at his feet then, shall we?
So let's roll up our sleeves and serve somebody, shall we?
This article originally appeared here.