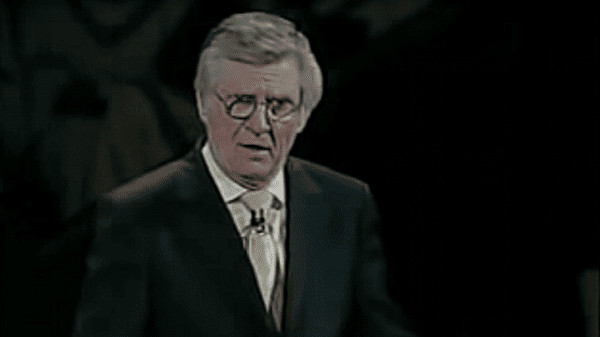 David Wilkerson was the founding pastor of Times Square Church in New York City, the founder of Teen Challenge, and the author of The Cross and the Switchblade. You might say after pastoring such a large, diverse church, helping teens overcome horrific drug addictions, and walking through a very rough season with a former gang member, he knew a thing or two about anguish.
The following video contains a short excerpt from a well-known sermon Wilkerson gave at Times Square Church. The focus of the sermon is a topic that he feels a deep conviction about.
Not one to mince words or fear rejection from man, Wilkerson points to the reasons he believed the church was in decline and experiencing so much attack: We are not properly anguished. We have become apathetic in our relationships with Christ and our roles in the spiritual battle we are currently facing.
Using Nehemiah as an example, Wilkerson draws an analogy between the work Nehemiah did to rebuild the walls surrounding Jerusalem and the work we need to do in our own families and even our hearts to protect ourselves and our loved ones from the enemy of our souls. In his sermon, he encourages believers to "Build the walls around your family. Build the walls around your own heart. It will make you strong and impregnable against the enemy."
Wilkerson warns that the enemy is lulling us into apathy and that his tactics seem to be working. "That's all the devil wants to do is get the fight out of you. And kill it. So you won't labor in prayer anymore. You won't weep before God anymore. You can sit and watch television and your family go to hell."
This isn't just a personal problem believers have, either. Wilkerson says, "I see more of the world coming into the church and impacting the church rather than the church impacting the world." The church is also obsessed with entertainment and there exists "a hatred of correction and a hatred of reproof" inside our walls.
A big theme Wilkerson preached on over and over again was the need for people to listen to and respond to the promptings of the Holy Spirit. Wilkerson claimed this is necessary in order to take religion out of the hands of "man and flesh," and be able to build a much more effective ministry directed by the Holy Spirit instead.
If we want to take the example of Nehemiah and be able to defend ourselves once again, Wilkerson advises us to break, fast, and pray to the point of being in anguish. "Whatever happened to anguish in the house of God?" he asks.
We've become too comfortable and too apathetic, he says. If we really want to see the Holy Spirit move and minister in our midst, we need to return to a place of anguish.