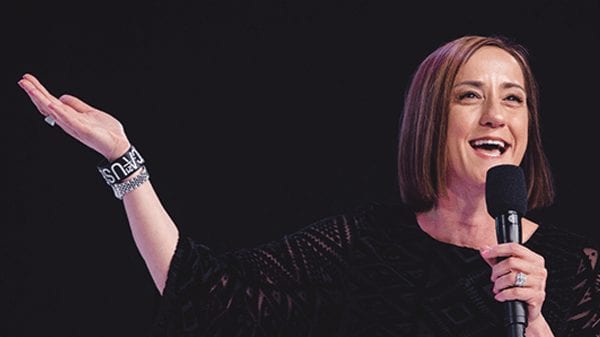 Christine Caine on shame: She has a message for all of us. Christine is a lover of Jesus, wife to Nick, and mum to Catie and Sophia. She travels the globe preaching, teaching, and advocating for justice. Powered by hot, extra-dry, skinny, cappuccinos, Christine is a lover of words who speaks too fast, talks too much, and writes it all down. She and her husband Nick founded A21, an anti-human trafficking organization that fights slavery around the globe. Christine has a heart for freeing captives, both physically and spiritually, but ultimately it comes back to her primary focus: building the Church.
Key Questions:
You tell stories in your new book about shame and how did you began to leave shame behind—can you share some of those stories?
How can leaders help the people they lead overcome shame?
What can you say to a woman who may feel her leadership gifts are not being used in her church?
What advice do you have for singles who feel shame over not being married?
Key Quotes:
"Jesus came to shame our shame."
"You are only ever going to lead to the capacity that your internal world is strong."
"The more healing we get internally the better leaders we are externally."
"I had to learn to make what Jesus did for me bigger than what anybody has ever done to me."
"I think [women] just want to be able to effectively use their gifts in submission, under authority, but they just want their gifts to flourish because that's the biblical mandate."
"We are all responsible for bearing fruits—males and females."
"There are enough women I've talked to in the church world that feel they have to dumb themselves down in Christian settings, which I think is so the antithesis of what the Lord would have."
"I think there's just something fundamentally wrong when any person, male or female, has to make someone else feel small to make themselves feel big."
"You are as entirely whole single as you are married."
"Jesus fulfilled His purpose and His destiny, and He completed the will of the Father and did everything that He was on assignment to do, but He never married."
Mentioned in the Show:
22 Quotes from Christine Cain #Catalyst14 Session 2