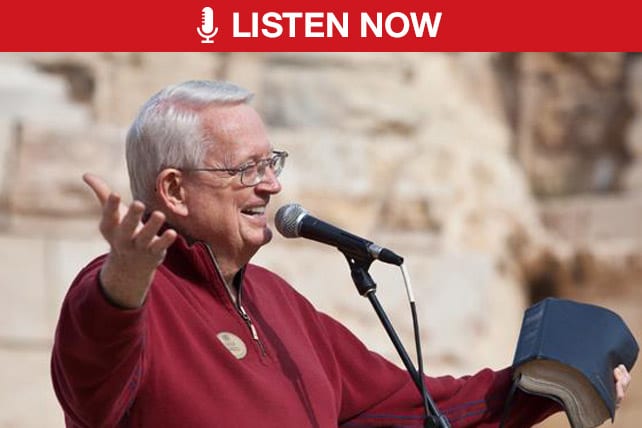 Chuck Swindoll is the founder and senior pastor–teacher of Stonebriar Community Church in Frisco, Texas. But Chuck's listening audience extends far beyond a local church body, as Insight for Living airs on major Christian radio markets around the world. Chuck's extensive writing ministry has also served the body of Christ worldwide, and his leadership as president and now chancellor of Dallas Theological Seminary has helped prepare and equip a new generation of men and women for ministry. Chuck and his wife, Cynthia, his partner in life and ministry, have four grown children, ten grandchildren, and six great-grandchildren.
Key Questions for Chuck Swindoll:
Where did your passion to proclaim the word of God begin?
We live in a day where there is so much great Bible teaching online. How important is it for people to study the Bible themselves?
For those of us who teach the word regularly, what are some common mistakes we need to avoid when we study Scripture?
Key Quotes from Chuck Swindoll:
"My contagious enthusiasm for spiritual things began probably at home."
"He's not hiding from us. He's revealed his word; he's revealed his will; it's all there for you to discover.
"Richard Custer said, 'Today we don't need richer people; we don't need more intelligent people; we certainly don't need busier people; we need deeper people.'"
"I certainly do appreciate those that love the Lord and are teaching his word, but I learn the most when I dig in for myself."
"Everybody living today faces something impossible…You know what? Not in the hands of God. And what a difference it makes when you realize 'I can take what looks like an impossibility and give it to him.'"
"We're all faced with a series of great opportunities brilliantly disguised as impossible situations."
"What's the rush? It's not a question of how much did you get through the Bible, how much did the Bible get through you?"
"God took 1,500 years to record his word; used 40 different authors; 40 different writers to give us his word. And we let it collect dust?"
"Wycliffe put [the Bible] in English and went to the stake for it, because it was heretical…the reformers paid the price. Now we've got the Bible in our own language and what do we do? We rely on somebody else to feed us? Something's wrong with that picture. No wonder we're stunted in our spiritual growth."
"We're living in the 21st century, but the book was written in the first century and earlier. So build a bridge."
"If you feed them well, you'll never be fired. Sheep come where there's great food."
"I'm not amazing. I'm just a hard-working, disciplined, careful reader and preacher of the Scriptures. You can be that, too. Anyone can do that."
[SUBSCRIBE] For more ChurchLeaders podcasts click here!
Links Mentioned by Chuck Swindoll in the Show:
Chuck Swindoll on ChurchLeaders: