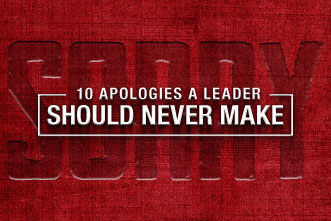 Wise leaders apologize. They apologize for those things that they've done that they shouldn't have done or for those things they should have done and didn't. Below you'll find a list of apologies a small group leader should never have to make to their small group.
1. I apologize for not praying for you this week.
2. I apologize for acting Godly when I'm with you but differently when I'm at work or playing sports.
3. I apologize for not modeling for you the importance of spending time with God daily.
4. I apologize for allowing our group to discuss a call made by the church leadership I disagreed with.
5. I apologize for giving you my opinion when you asked for wise counsel. I should have taken you to Scripture to find out how God would have answered your question.
6. I apologize for not leading the reconciliation process when two of you were at odds with one another.
7. I apologize for never leading you to be on mission together.
8. I apologize for allowing an overly talkative and outrageously opinionated group member to overtake our group meetings.
9. I apologize for not helping each of you find your spiritual gifts and equipping and empowering you to use them.
10. I apologize for not telling you how you could begin an eternal relationship with Jesus Christ.