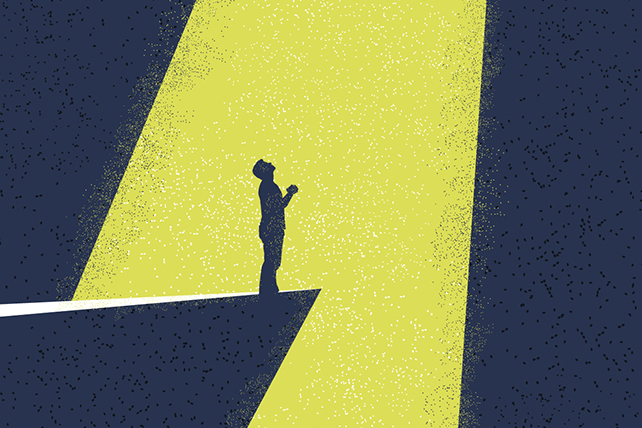 There isn't a cookie-cutter formula when it comes to prayer or your prayer life. Some sit or kneel, and others stand or walk. Many speak out loud, while others whisper quietly. Some pray with friends, while others choose to pray by themselves.
No matter how we choose to pray, prayer is essential for a follower of Jesus.
Just as a relationship with your best friend would soon turn sour if you stopped speaking, so too will our relationship with God. Prayer invites us into constant communication with God so our relationship with him can flourish.
But, if we're honest, there are times in our relationship with God where prayer can feel flat, rote or downright lifeless.
Here are five ways to jumpstart your prayer life this week:
1. Write them down.
Instead of speaking your prayers aloud or in your mind, choose to record your prayers in written form each day this week. Pick up a notebook or journal and write down your words of thanks, requests and adoration to God. You can even begin recording your prayers on those blank pages at the back of your Bible—it's worked for me.
2. Snap a photo.
Start a collection of pictures of things, ideas and people you need to be reminded to pray for. Each time you scroll through the photos on your phone, in a scrapbook or on the refrigerator, speak words of blessing and prayer over them.
3. Memorize and meditate.
Choose a passage from the Bible such as The Lord's Prayer (Matthew 6:9-13) or Psalm 23, and pray the passage for five minutes each day this week. Ask God to help focus your heart and mind as you pray. Focus on each word as you speak them to God.
4. Only use three.
Limit the length of your prayers each day this week. Instead of using long-winded prayers, consider limiting your prayers to three words. Rather than thanking God for this amazing day, simplify the prayer to, "Thanks for today." As you distill your prayers to their simplest form, reflect on what you're really saying to God and how much you are trusting him.
This practice is explored in depth in Wonderstruck book and Bible Study.
Whether your prayer life is vibrant and active or struggling and inactive, I'd like to challenge you to prayerfully consider and reflect on the prayers of Jesus. There's something about the red words that breathe life into my tired heart and ignite my prayer life once again.