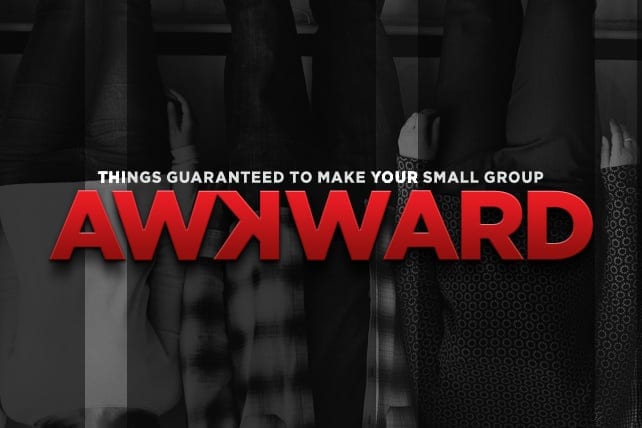 We've all been to them: awkward small groups. For one reason or another, something wasn't clicking. As small-group leaders, we want to avoid doing those things that make it less desirable for people to join. There is no perfect answer, but here are a few tips on how to make things not awkward in your small group.
1. How to make things not awkward in the format.
The meeting times, discussion topics, icebreakers, etc., can all influence whether or not your small group feels awkward. Getting the format right is extremely important if you want to make your small group enjoyable.
Timing matters. If you're meeting twice a month only, you run the risk of cultivating shallow relationships. Schedule weekly meetings. It's important for the members to interact regularly in order to form close relationships. And if they are joining a small group with the desire to be part of a community, then a weekly commitment shouldn't be an obstacle.
Additionally, the format of the small group is important. Some groups do a Bible study, others discuss the week's sermon and some may just gather to share their lives over a meal. Let the small-group format be dependent on the people and personalities. Tailor it to what feels the most natural among the members. There's nothing more awkward than forced conversations around a study that just isn't working for the group.
2. How to make things not awkward with commitment.
I know we're all a little gun-shy about asking people for a solid commitment these days. Everyone is so busy with extracurricular activities that a request for regular attendance seems unthinkable or that it will scare potential members away from joining the group. But if we don't, the relationships in the small group will suffer.
The best small groups consist of people who come every week, open up about their lives, and really want to invest in the lives of others. If they aren't willing to commit to regular attendance, then maybe these things are not what they're looking for. The only way to foster trust and build relationships among the members is to have consistent interactions, connecting on a deeper level, and making a solid commitment to be there for one another.
Let your small group know that you understand there will be circumstances that come up that are out of their control but ask for their commitment to be in attendance regularly and tell them why it's important.
3. How to make things not awkward with the over-sharer and the under-sharer.
You can't control who joins your group. But you can control the discussion. If someone is consistently dominating the conversation, it can be awkward for the other members. Suddenly others feel less inclined to share for the sake of time, or frankly, to spare the others. As the leader, you can politely steer the conversation in the direction you'd like it to go—which in some cases means away from the over-sharers and on to the under-sharers.
Those who refuse to open up are equally a challenge. Sometimes those people just need more time to come out of their shells. Try spending time with those people one-on-one before the discussion begins. Help them to feel comfortable with you so that they'll feel more at ease in the group setting. It's unlikely they joined a small group with the intention of keeping to themselves. It could just take a few strategic interactions to make them feel more comfortable.
4. How to make things not awkward by veering from the script.
In many cases, leadership at the church will provide small-group leaders with a list of study questions to go over as an outline. But if you're locked into that list of questions, you can miss some great opportunities for more meaningful discussions. Don't be so concerned with finishing all the questions or quickly moving on to the next. Let the Spirit lead the discussion and try not to be too rigid.
When preparing for the week's group, think of your own questions that could be tailored to the people you have come to know. If you know personal situations that have been shared before, use that as an opportunity to hear more about the person's story while tying it into the study. This will feel more natural and less scripted.
5. How to make things not awkward as the leader.
Know your strengths. If you feel called to lead a small group and enjoy hospitality but find yourself reserved or lacking as a discussion leader, don't force it. Consider co-leading a group instead. You can offer your home as a meeting place, provide care for the members of the group and specialize in one-on-one communication. You may find that you add more value using your strengths in these areas while letting someone with different abilities lead the group discussions.
6. How to make things not awkward when adding kids to the mix.
Some groups describe themselves as family-friendly and children are welcome to play in another room during the gathering. If that's working for you because everyone in the group has agreed to it—great. But take into consideration families that may not have children or whose kids are grown up.
Sometimes adding tots to the mix can cause a big distraction or it can deter others from joining the group. At the same time, families with small children may have a hard time committing to a weekly group without childcare. You don't want anyone to feel excluded, so finding the right balance is necessary.
Talk with your group about raising funds to provide childcare at a nearby location, or perhaps hiring a teen from the youth group. Not only will the people without kids appreciate fewer distractions, but the parents will probably feel more at ease if the kids are being cared for, too.