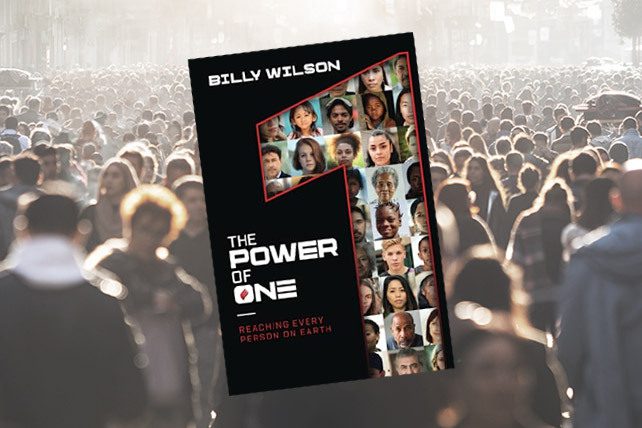 I recently wrote a series on why Pentecostals are growing. I published those articles after speaking to a large Pentecostal gathering in Amsterdam focused on finishing the Great Commission by 2033—the symbolic 2,000th anniversary of the giving of that commission. The event was sponsored by Empowered21, which is focused on the future of the Spirit-filled movement. 
Billy Wilson, president of Oral Roberts University, leads Empower21 with a great team. And, Billy's new book was out in time for the conference. I asked the team there if we could publish a "20 Truths" article here, and they agreed.
As such, here are 20 quotes from the book, "The Power of One: Reaching Every Person on Earth' of One": 
Introduction
"Empowered21 is a relational network that God birthed in 2010 to help shape the future of the Spirit-empowered movement. It has given leaders around the world a platform to unite and flow together as we focus on the empowerment of the Holy Spirit in the twenty-first century, new generations, greater unity, and world evangelization." (8) 
Chapter 1
"'Lord, help me get one more.'
These six words embody the burden of God's heart for individuals. They echo the heart cry of the first apostles as they carried the gospel to Asia, Africa, Europe, and the Middle East." (17) 
Every person is some mother's child:
"Always err on the side of attempting to obey the Great Commission. When you wonder, 'Should I share the gospel with them or not?' 'Should I spend the extra money for that outreach?' 'Should I make the extra effort to reach and serve them?' 'Should I go to these people or not?' Go! Go as far as you can, as fast you can, while you can. Jesus has already given the command for us to go." (31-32) 
Chapter 2
"[The] parable [of the lost coin] reminds us that you don't have to be in a faraway place to be lost. You may attend church every week, be engaged in ministry, be right in the house, and yet still be lost. God is searching; He is sweeping, and He is fully engaged in finding every single one, far and near." (39)
 A Heart for the Lost
"William Booth, the great founder of the salvation army, was invited by King Edward VII to Buckingham Palace in 1904…. When the king asked Booth, who was 75 years old, to sign the autograph book that every guest signed, Booth wrote: 'Your Majesty, some men's ambition is art, Some men's ambition is fame, Some men's ambition is gold, My ambition is the souls of men.'" (45)
Chapter 3
All that for one man?
"Jesus preached to multitudes of people in His ministry…. Yet, Jesus consistently chose to focus on individuals amid the multitude. Time and time again, in Jesus' earthly ministry, He would concentrate His complete attention on one person, engaging with that individual as if they were the only person in the world." (39)
Chapter 4
"If you were to walk into any crowded public space today, what would you see? Years ago, before the release of the first iPhone in 2007, you may have seen total strangers chatting among themselves with a variety of conversations taking place…. [Now] you'll find people silently staring down at their devices instead of engaging with one another." (77-78) 
The most individualistic generation ever
"In this world of growing individualism, Generation Z wants to be noticed, understood, and known. This social phenomenon is marked by high self-expression, self-reliance, and personal autonomy. They are in the business of trading traditional norms and societal expectations for their uniqueness." (80)
 "Generation Z is crying out to be noticed, and if we are going to reach this generation, we must focus on them as individuals. The pandemic incubated this individualism transforming them into the most introverted generation ever. At Oral Roberts University, where I serve, we have noticed this significant shift." (81)
The greatest injustice
"I contend that the greatest injustice in the world is that we have the means, the money, the mechanisms, the technology, and the power to share the good news of Jesus with every person on Earth, yet many still have never heard about Him and are on their wat to an eternity separated from God." (82)
"I believe that God is calling today's church to re-personalize the Great Commission and once again focus on individual people. Generation Z is positioned with the worldview, self-understanding, and technological skills to lead the way in this new era of evangelism. They will be the greatest contemporary force in bringing the Good News of Jesus to everyone on earth." (83)
Chapter 5
"The 21st century will be the most volatile in history. If we are going to reach everyone on earth with the gospel of Jesus Christ, we will do so amid the drama and trauma of this age." (111)