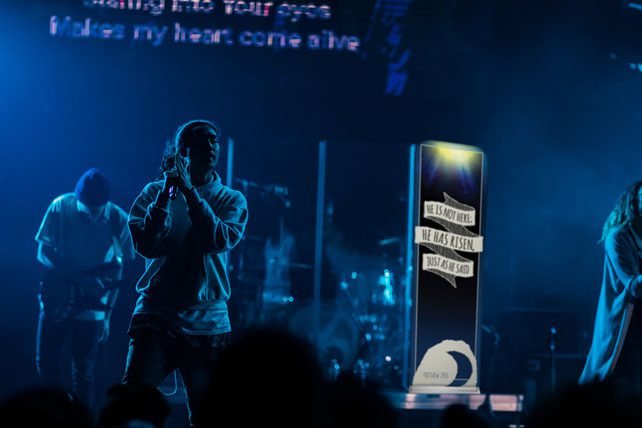 Check out these 12 easy church stage design ideas for Easter–when you're running out of time to decorate the stage (or even the foyer)!
Church stage designs are becoming increasingly popular with the rise of creative sermons and multi-sensory worship experiences. How's your stage design? Oversized banners provide eye-catching artwork to decorate stages, lobbies, children's areas and other interior spaces.
Keep your signs consistent with your other tools. If you have a holiday theme with direct mail, doorhangers, invite cards etc., order outdoor banners that have the same theme (look and feel).
Keep it simple. We keep harping on the 8-second rule for a reason. Someone driving by doesn't have time to read an entire bible passage. They can, however, note your service times, short website address or the date of your upcoming church picnic, especially if it's big and bold and not crowded with other copy.
Follow basic design principles. Bold, large text,  a strong call to action and a way to contact someone for more questions. Avoid hard to read color pairings like a yellow background with white font.
Avoid imagery or language that might deter unchurched people from visiting. Talking about the blood of Jesus or being filled with the Spirit can be a little disconcerting when taken out of context.
ChurchLeaders is here to help with these 12 church stage design ideas.
These fabric banners are printed on soft polyester poplin giving your banner design a drape-like look and feel. The fabric hangs softly providing an elegant, dressy, wrinkle-free look, and the dye-sublimation printing process provides bright colors and images. Just click on the graphic or the title links to learn more.

"He is not here. He has risen just as He said."
2X6–$99

2X6–$49 and 3X5–$89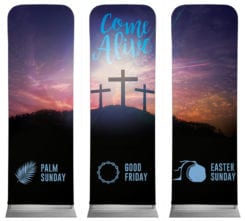 2X6–$237 and 3X5–$297