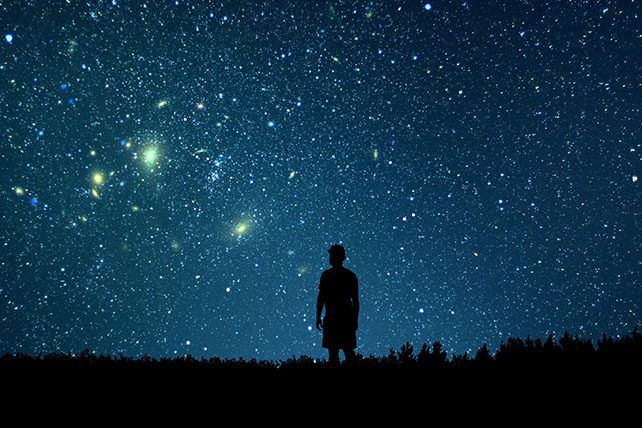 I used to think silence and stillness meant God wasn't speaking. Now, in the silence, he's all I hear.
Stillness
As a young man I would look to the stars, overwhelmed by the beauty of the night sky. I knew from Psalm 19 that the heavens declared the glory of God. I could see his greatness, but could not hear his voice. Even in their majesty I would wonder why God was so silent. My prayers, especially at night, were filled with requests and concerns. I would list my needs one by one, unaware that my greatest need was stillness.
Of the many needs of North American believers, silence and stillness are among the greatest. Silence is the page on which God writes his word. Our noisy world scribbles on the page continually, overlaying sound and word on top of word and sound until the page becomes black. We cannot read what God has written unless the page is clean.
The pathway of modern life has been hardened, trampled by words. Back in the day you had to visit Times Square; now Times Square visits you. The sower sows the seed but it falls on the path and is carried away by SportsCenter, YouTube, NPR, FoxNews, and our ubiquitous earbuds. Quiet is an aberration. When Maxwell Smart uses the Cone of Silence, the point is that everyone simply has to shout louder. Drop any comedian into a monastery and he'll have the monks doing hip-hop before it's over. Even our Bibles are cluttered with sidebars and graphics, pictures and celebrity interpretations.
But what if God is in the stillness and silence? He wasn't in the whirlwind or earthquake for Elijah. The "still, small voice" is still a whisper. Perhaps the Father has his reasons for not raising is voice. I suspect it's for our good that we find him in the secret place, well away from Times Square. Why not create a secret place each day and give him just three minutes of blank slate? The Father doesn't need a podcast to reach our hearts. We will find his presence in the silence, and it will be enough.
This article about stillness originally appeared here, and is used by permission.