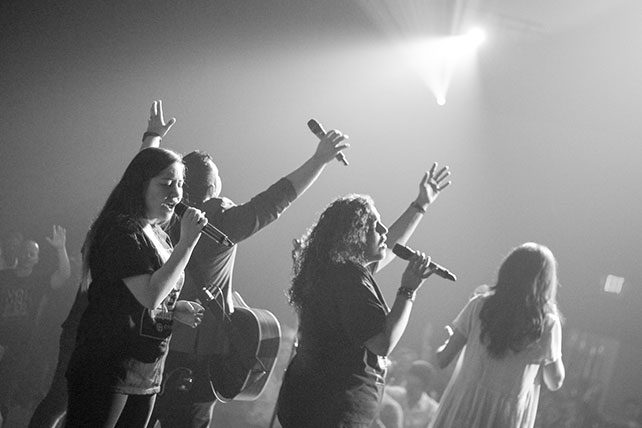 On a Sunday morning, you finish a song, cue the intro to the next tune, and your female leader steps forward ready to lead. She sings that first note and the room erupts in female voices! There is a noticeable shift in the room as women take the lead on a Sunday morning. Women in worship leading means that women in the congregation have a voice like theirs leading them in melodies that are easy to follow with songs in their range, and they are being led with a meekness they are well acquainted with.
I have the honor of leading and developing women in worship  in our church—not to just come to a service and sing a song but to show up prepared to truly command the room and lead people in declaring truths about God.
Women in worship from the stage is a topic that comes up in almost all of my professional conversations—who should lead? How should she lead? How do we encourage her to lead? Over the past several years that I have served with Austin Stone Worship, we have seen this take various forms, and I am hopeful that you can glean something from a few ways we have seen God encourage and shape our female leaders. Taking the time to invest in women for leadership in our churches has a significant impact on the women who attend and serve Sunday to Sunday.  The women in your bands are leading over half of the people in the room every week, and the women in your services are getting to see what it looks like to honor God with their gifts in addition to having countenance, harmonies, melodies and authority in Christ modeled for them.
My hope in writing this article is that whether you have women in your church who are currently leading worship or you are asking God to raise up female leaders for your team, you would find this a helpful place to gain insight.
Women in Worship – 4 Keys
1. Start at Front of House
Audio on a Sunday morning is a very important component of our services. We have skilled engineers who understand the value of pushing vocals and instrumentation just loud enough that a man or woman would feel comfortable singing out to God and not feeling exposed while simultaneously being able to hear the voices around them as we collectively offer up praise to God. Likewise, it has become a high value for our services that a female vocalist's voice not just be an "accessory" to the male vocal, but rather an "out-in-front" vocal so other women in the room can catch on to melody and harmony and easily join in on any song no matter the key. If a lady steps forward to lead out on a specific song, her voice goes up and the male vocal, while still very present, is set just a touch below hers in order that his harmonies would be easy to follow for the men in the room. It's crucial for the engagement of the room that a male leader has sharpened his harmonies for the songs he won't be singing lead on. For most of us, the days of everyone in our congregations knowing hymns by heart, four-part harmonies included, are gone! We want to make worship through song inviting and accessible to anyone who walks into one of our services.