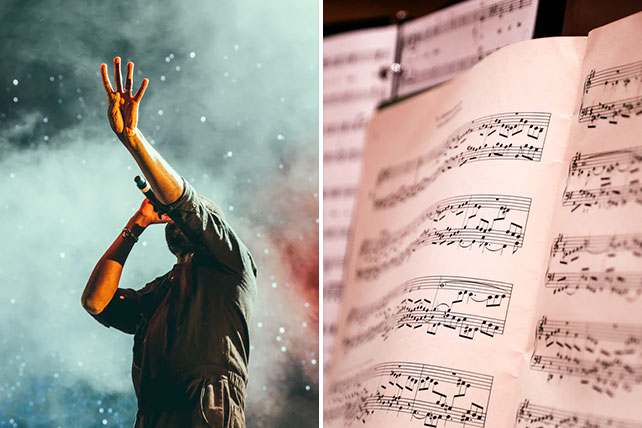 Choosing songs for worship is no easy task. You have to choose a song that people will sing, that you like playing, has a good message…the list goes on. I'm here to tell you that you don't have to fear finding the right music for your church. Sure, there's a lot to consider, and you won't get it right every time.
That's OK.
You'll learn more from your failures than your successes in this area. Still, you want to have a healthy tally in the "win" section, and that's why I put together a checklist of 25 things to look for in a good worship song.
You certainly don't have to hit all 25, but finding a good song is more like finding a good car or place to live. If you hit 70-80 percent of your wish list, you're doing great.
Choosing Songs: 25 Ways to Pick Great Songs for Your Church
1. CHOOSE WORSHIP SONGS WITH A GREAT MESSAGE
Most worship songs have biblical, theologically correct lyrics.
Most.
But when you're writing a worship song it's easy to accidentally say something that's not exactly theologically sound. Sometimes those songs gain traction and the church starts singing them en masse.
No one in your congregation is going to veer off the straight and narrow because of slightly off-base worship lyrics. Still, worship is teaching, so you want to avoid teaching the wrong things.
As a worship leader, you are a teacher and as James 3:1 says, "Not many of you should become teachers, my fellow believers, because you know that we who teach will be judged more strictly."
So teach well with the songs you choose.
2. CHOOSE WORSHIP SONGS THAT HAVE ENOUGH "MEAT."
Speaking of teaching, you might as well make sure you are teaching something when you are leading worship.
Sure, there are times when you want to sing the chorus of "I Could Sing of Your Love Forever," well, forever. But make sure you are choosing other worship songs that teach the Bible and character of God.
To put it in food terms, serve some meat along with dessert. A good worship song is not only catchy, but has people processing the lyrics all week.
One of the best examples I've ever heard is Stuart Townend's "How Deep the Father's Love For Us." It's a musical and lyrical masterpiece, and teaches deep spiritual truths.
3. MAKE SURE THE LYRICS AREN'T DUMB.
This is related to the previous tip, but different.
Now, I'm sure a Christian worship song writer would ever compose "dumb" lyrics, but if that were to ever happen, please don't sing the song.
When I was in youth group, I sang a song called "I Like Bananas." There's absolutely no reason anyone should ever sing this song. Seriously. Just don't.
4. CHOOSE WORSHIP SONGS IN YOUR CONGREGATION'S STYLE.
If an electric guitar has never darkened the door of your church, maybe you don't want to choose a mid-2000s Hillsong United tune.
Sure, you can move your church in a certain direction, but don't do it too fast. Choose songs that are not too far outside your church's current comfort zone stylistically.
But let's say you really like a song whose original version is too wild for your church's taste. It's OK to tone it down while capturing the essence of the song. Use keys or an acoustic guitar to bang out the basic rhythm and feel of the song.
You can play good song a thousand different ways and it will still carry meaning and power.
5. CHOOSE A SONG THAT YOUR BAND CAN PLAY.
There's nothing worse than biting off more than you can chew as a worship team.
Many of us would like our teams to have all the talent and skill of Elevation Worship or Crowder. And most of us would love to be that artistic.
But sometimes we just can't pull it off.
The rhythm is too complex, the guitar part too intricate, and the vocal range too wide.
Don't worry. No one will fault you for being realistic about your skills. It's better to really nail a very basic song than to flub through a tough one.
6. FIND A SONG THAT'S "YOU."
You know the feeling if you've tried this before. A song really moves you, and the record sounds amazing. You try it, and it's just not you. I'll probably never try a Kirk Franklin song. And I'm just not cool enough to pull off electronica.