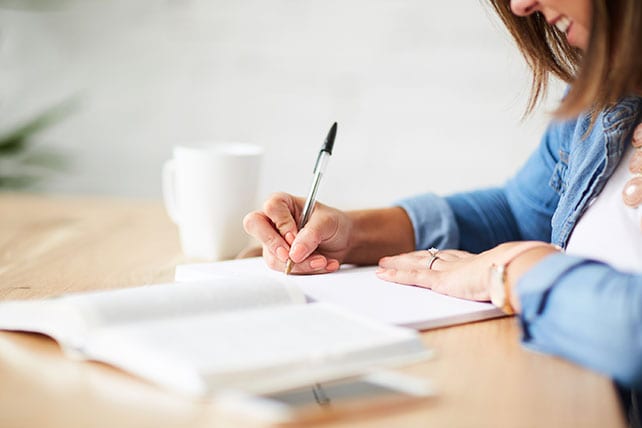 Christian journal prompts are a key part of my daily routine. During my quiet times, journaling probably has the most impact. Yes, I pray throughout my day. But my morning journaling helps me stay more focused, dive deeper, and intentionally seek the Lord.
Do you want to take your relationship with God to a deeper level? Then check out the Christian journal prompts below. They're a great way to grow your faith and apply it to your daily life.
10 Christian Journal Prompts to Try
Use and adapt these ideas for meaningful Christian writing prompts. Then share your own suggestions in the comments below!
1. Good morning, Lord! Thank you so much for…
Gratitude is the best way to start my day. I'm not a morning person, and I don't always wake up in a good mood. But choosing to be grateful first thing in the morning can change the whole day.
Gratitude affects your mood and perspective throughout the day. But most importantly, it affects your heart. When I'm in a bad mood and don't feel like thanking anyone for anything, I still write, "Good morning, Lord! Thank you so much for…" I always come up with something, whether it's basic, like having a roof over my head, or huge, like an upcoming wedding.
All gratitude matters. The more you look for blessings, the more you'll find were there the whole time. Thankfulness is a key component of Christian journal prompts.
2. I'm really struggling with…
It's good to admit when you're struggling. Journaling your prayers is about being authentic, not trying to pretend like you have it all together. Pour out your heart, fears, and burdens. The Lord can handle them!
Use words (my preference). Or even draw if that can express your heart more clearly.
Maybe you're struggling with a difficult relationship. Or maybe you're struggling to even journal that morning. It's okay to admit it. And it's okay to be real, to be you.
3. A Bible verse I want to dwell on today is…
I rarely complete a journal entry without involving Scripture. If we're left to our own thoughts and feelings, we could go haywire. The hypothetical futures we create could be all over the place, full of fear and uncertainties.
But God's Word is like a breath of fresh air when we're drowning in worry. The Bible keeps our haywire humanity rooted in the Truth.
The YouVersion Bible app has a verse of the day. Maybe a verse sticks out to you in a Bible-reading plan you're following. Or maybe you search "Bible verses on comfort" to help you handle a tough situation you're going through.
Writing God's Word is powerful. It helps you remember the words more clearly, understand them more deeply, and recall them more easily.