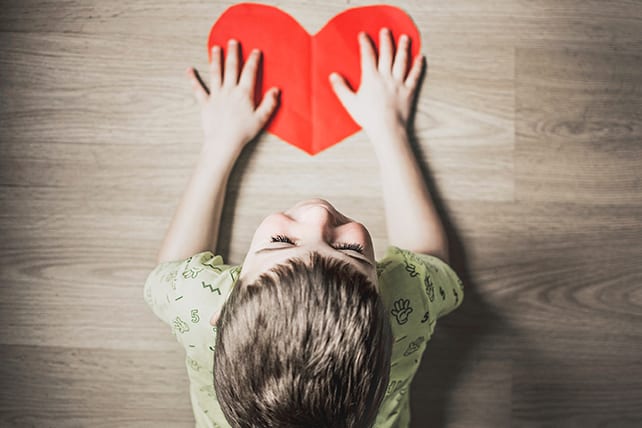 Discipleship is a word that is thrown around a lot in ministry these days, but what it means when it comes to children is helping kids love God. Church staff members in many of our churches are constantly searching for the next big idea on how to lead people to become more devoted followers of Christ.
How Do We Help Our Kids Love God?
The question of how to help our kids love God is one that keeps many ministers up at night. This is a question that I have asked myself numerous times. How do I help kids love God and own their faith and eventually share it with others? How do we get kids to understand that salvation is so much more than being able to spend forever in heaven with God? The answer that I keep coming back to is the fact that this can only happen through the family. Psalm 78 has played over and over in my head,
We will not hide them from their children, but tell to the coming generation the glorious deeds of the Lord, and his might, and the wonders that he has done. He established a testimony in Jacob and appointed a law in Israel, which he commanded our fathers to teach to their children, that the next generation might know them, the children yet unborn, and arise and tell them to their children, so that they should set their hope in God and not forget the works of God, but keep his commandments; and that they should not be like their fathers, a stubborn and rebellious generation, a generation whose heart was not steadfast, whose spirit was not faithful to God.
And this is just four verses! There is so much within this text that we often miss. It does not say that the church is supposed to tell the coming generations of the deeds of the Lord, but the family. Discipleship is both initiated and cultivated in the home. Parents have more influence than they can ever imagine when it comes to the spiritual development of their children. When children see faith displayed in the lives of their parents, they naturally will want to display those same qualities. Yet, the question that is asked by so many parents is, "Where do we begin with this seemingly daunting task?" I believe that there are three things that can bring discipleship back into the home and make helping kids love God a reality once again.
1. Parents must tell their children how they came to faith in Christ.
I can think of many children that have no idea how their parents came to know Christ. The children know that their parents believe, however they are not sure what drew them into a relationship with Jesus. Your story of salvation is also a part of your child's story of salvation. Therefore, telling them how you met Jesus makes salvation a real thing to them. The more they hear your story about salvation, the more they are likely to experience their own story of salvation. It is one thing for a pastor to stand in the pulpit on Sunday mornings and talk about coming to faith in Christ. When children hear the story of how you came to faith in Christ, it becomes more meaningful to them. This allows the children to grasp what life is like without Christ, to realize their own lostness. But more importantly, they get to hear how Christ changed you and how you are now a new person. All of a sudden salvation becomes more real to them. This can be the beginning of a continual spiritual conversation in the household.
2. Parents must take every opportunity to point to Christ.
We look for teaching moments in a child's life every day. However, these usually pertain to their behavior rather than their spiritual development. God blesses many of us with 6,408 days (from brith to 18 years) to continuously point our children to Himself. If parents are the primary disciplers of their children, then every moment can either point them to God or to the world. We will do whatever it takes to make sure we have "good" kids that have "good" behavior. However, our behavior is what flows out of our heart. Therefore, issues of behavior are truly a matter of the heart. Matthew 15:19 says, "But what comes out of the mouth proceeds from the heart, and this defiles a person." Luke 6:45 says, "The good person out of the good treasure of his heart produces good, and the evil person out of his evil treasure produces evil, for out of the abundance of the heart his mouth speaks." Jesus was telling his listeners that who we truly are comes from the heart. Moments of discipline are teaching moments pointing back to our belief in God. Therefore, we must understand that there is so much going on beneath what we see on the surface. As parents, God has equipped us to speak directly into their heart by pointing them to the Savior Jesus Christ.
3. Parents must show their children Jesus by the way they live.
This is the scary part, because if anyone knows that parents mess up it is their children. They see the good, the bad and the ugly. However, parents can live a life that is pleasing to the Lord, and their children will follow suit. I remember growing up and watching my parents love others in a way that had a huge impact on how I now treat others. I also remember seeing my parents being confronted with people who were upset or agitated, and how they handled that person with so much grace and mercy. I am not at all saying that they were perfect; they did however model for me the fruits of the Spirit. They showed me that if Jesus truly lived in my life, then others will notice by the way I talk and by how I love others. Sometimes living out your spiritual life in front of your kids means admitting that you are a sinner too. This is scary, but whether you like it or not, your children know that you are not perfect. So it is time to take down the mask and admit that you struggle with certain things. Just think about the impact it would make to a child who struggles with anger to sit down with their parent, and the parent explains how they handle life when they are angry. This would change the way kids understood their parents.
Psalms 127:3-5 says, "Behold, children are a heritage from the Lord, the fruit of the womb a reward. Like arrows in the hand of a warrior are the children of one's youth. Blessed is the man who fills his quiver with them! He shall not be put to shame when he speaks with his enemies in the gate." Children are a blessed gift from the Lord. Therefore, their spiritual development is of upmost importance to the family and to the church. God has called parents to be the primary disciplers of their children and not the church. The church is called to journey alongside parents.
We are in this together to help our kids love God. Parents the church is for you, we are ready to fight for your children with you.