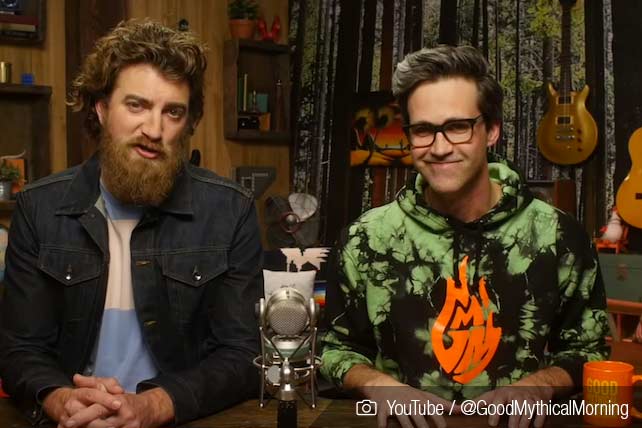 The Rhett and Link controversy has really rocked my kids' world. They love YouTubers Rhett and Link, who host the Ear Biscuits podcast. But an episode where the hosts deconstruct their faith really shocked and upset my kids. How should youth leaders respond when high-profile influencers question or discard their Christian beliefs?
When I was growing up in the 1980s, road trips always came with a soundtrack. But our DJ was the driver, my stepdad. He controlled the tunes. Fast-forward to the early 2000s, when my wife, Katie, and I had two kids of our own. On road trips we played Steven Curtis Chapman, Michael W. Smith, MercyMe, and a good dose of worship music.
But when mobile devices emerged, our kids developed their own playlists. The "aux cord" seemed to extend all the way to the back seats. Soon the rug-rats from the second row were calling the musical shots.
The beauty of this? Our kids introduced us to all sorts of fun stuff. That included YouTubers Rhett & Link, the sensations of Good Mythical Morning and podcasters of the Ear Biscuits show. These Gen-X goofballs have kept us in stitches for years. The games, candor, cultural commentary, funny songs, and sprinkles of church life gave us joy.
Rhett and Link have been more than a track on our mixtape. The comedy duo has felt like friends or even extended members of our faith community. Their presence has been real and welcome. We love these guys. That's why the recent Rhett and Link controversy has been so upsetting.
Rhett and Link Controversy and Deconstruction
Over the years, we learned that YouTubers Rhett and Link had been on staff with Cru, served as missionaries, led Bible studies, and worked with campus ministries. They'd read many of the books your students read (Keller, McDowell, Strobel, etc.). They were featured as the "Bentley Brothers" in Phil Vischer's What's in the Bible videos for kids and grew up in the North Carolina Bible belt. To be clear, Rhett & Link weren't just "casual youth group kids." Active and highly engaged, they were the ones you wanted to help lead.
So we were punched in the gut when our 17-year-old son asked, "Can we sit down and talk?" (Gulp.) YouTubers Rhett and Link announced they're no longer Christ-followers. In Ear Biscuits episodes 226 & 227, they walk listeners through the deconstruction of their faith. Our son had lots of questions. Concerns. Doubts. Emotions. Honestly, I was thinking, "You've been following Jesus for years. How could a single two-hour podcast rock your world?"