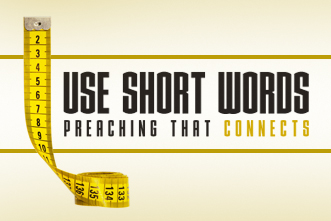 A few years of a great religion degree can lengthen the words in your vocabulary. This isn't a bad thing. I love words. I love to use new words, especially after I've learned to understand what they mean! One of my favorite words learned in undergrad was the word concomitant. It's a word that means that something naturally occurs together with something else, or follows it. I loved learning this word because it helped me understand how God does multiple works of grace in our lives–at the same time–justifying us completely as well as sanctifying our hearts by the truth.
This is meaty stuff. Awesome to talk about, except such words signal passivity. They leave a listener with abstract ideas–unable to connect them with the needs they have and want to deal with.
Over the years I've had to learn to let the temptation to sound educated die. It hasn't been easy. It's a struggle not to default to what we've learned formally in books, blogs, and bachelors degrees. But it has worked, to return to short bursts of clarity, bright and powerful words placed intentionally together that help a listener to GRASP the power of God's story involved in their lives.
Our ministry isn't understanding and being able to articulate theological terms in the right context and with the proper pronunciation (while it is supported by it) Our ministry is found in connecting with the listener.
Preaching that loves knows this. It's a practice in self-denial. To think in terms of the other. To be clear, to be connecting, to be vulnerable–all the while being rooted in Scripture and open to the work of the Holy Spirit–this is opposite our desire for others to hear our concerns, our study, our perspective.
I know if what I have to share, is about Christ and making him known clearly–then the work will also be done by Him. This knowledge frees me to speak with authority. It removes doubt and we find ourselves being able to connect at another level.
The next time I'm tempted to be pithy or to "wow" an audience with how much I know (which takes quite a bit of doing as far as I'm concerned), I ask for God to correct me. To line me up with the heart of Christ. Empty me. So that I can preach the Word clearly and with authenticity. Thinking of who is hearing and how they may be receiving it.

"Jesus wept". This story, this line of God's Word is one of the most clear and concise Scriptures in the Bible. It tells the whole story. It reveals. It connects.
We can always make more room for God as we pray that he would become greater (John 3:30) in our ministries. And as we become less…God will continue to refine us to be great communicators of the Kingdom–connectors to Christ and his great love.
In this case, less really is MORE.