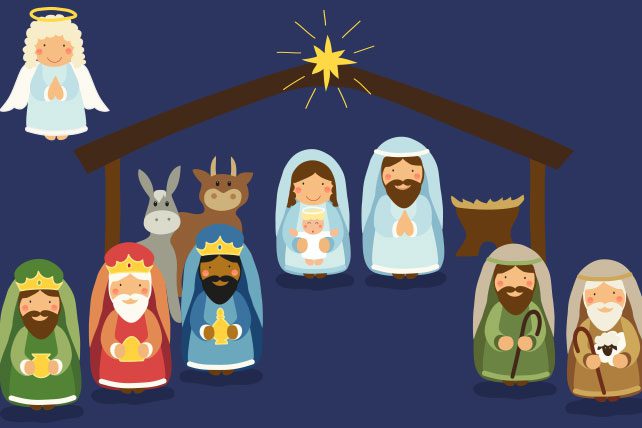 Preschool Christmas Bingo is a fun Bible game for little learners. This holiday activity is designed to spread a little Christmas cheer to kids who aren't yet ready to read.
For this preschool Christmas bingo game, create nine 1-inch squares on a single page. Then paste in a different Christmas clip art image in each square. Rearrange the images on different cards.
Use a manger with straw, a star, a cow, a candle, a shepherd with sheep, an angel, Mary, a gift, and a donkey. Print a Bingo game card for each child.
Playing Preschool Christmas Bingo
To play the game, give each child nine wrapped Christmas candies and a Bingo card. Have kids place a Christmas candy on each figure as you describe it with the following clues. (A "Bingo" is any three pictures in a row.)
Manger: "I am the straw, all golden brown, where Mary laid her baby down."
Star: "I am the star that shone so bright over baby Jesus that first night."
Cow: "I am the cow with breath so sweet who breathed on baby Jesus' feet."
Candle: "I am the candle with the warm, soft glow that lit that room so long ago."
Shepherd: "I am the shepherd with my sheep who came to watch the baby sleep."
Angel: "I am the angel who told of Christ's birth. I shouted the message, 'Peace on earth!' "
Mary: "I am Mary, the mother of this baby boy. To serve God completely is my heart's greatest joy."
Gift: "I am the present the wise men would bring to worship this baby born to be King."
Donkey: "I am the donkey who walked a long road with Mary the mother as my heavy load."
If children are having a hard time hearing or understanding, make a full-page copy of each piece of game art. Then you can show the picture as you read the description.
Give each child a small bag to take home the candies after playing the preschool Christmas bingo game.
This article about preschool Christmas bingo originally appeared here.