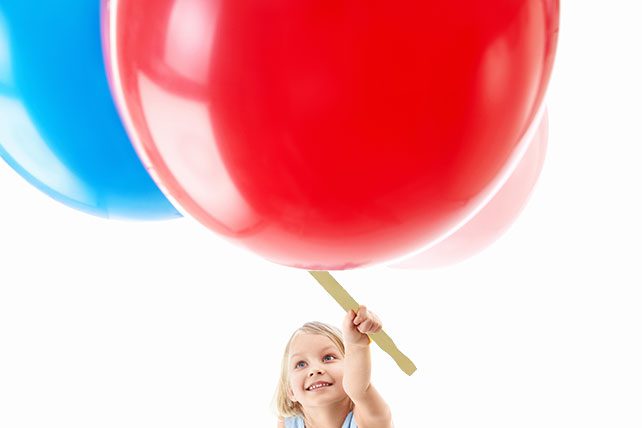 An object lesson is always a hit with Sunday school children. When you're teaching about Easter and Jesus' resurrection, opportunities abound for exciting, memorable object lessons. Check out these 7 ideas kids will love!
Celebrate Jesus' resurrection with these surprising, uplifting Bible-based Easter activities. Use them in Sunday school classes, children's church, or community celebrations. Also, you can create individual family kits with instructions. Or simply share these ideas with families.
When Jesus conquered the grave, he not only made it possible for us to live in heaven forever with God. His resurrection also gives us hope for our lives here on earth. These seven uplifting activities show kids that Jesus' resurrection brings us freedom and forgiveness. In each lesson, kids will experience how Jesus uplifts our lives through his resurrection.
7 Easter Object Lessons for Children's Ministry
1. Resurrection Object Lesson: Celebration Launchers
Celebrate Jesus' resurrection!
You'll need:
paper cups
balloons
scissors
pompoms
confetti
Show kids how to make these launchers before doing the following activity.
Say: Let's use these fun launchers to help us think about Jesus' resurrection. Hold up a pompom. After Jesus died on the cross, they put his body in a tomb. Place a pompom in your launcher, and let kids do the same. They closed the tomb, and guards watched it to make sure no one did anything with Jesus' body. Cover the top of your cup with your hand. But nothing could keep Jesus in that tomb! Launch the pompom out of your cup by pulling back on the balloon knot and then letting it go.
Then read aloud Matthew 28:6. Invite kids to practice using the launchers, each time saying, "Nothing could keep Jesus in that tomb!"
2. Resurrection Object Lesson: Keep Them Up! Game
This activity reminds kids that Jesus is our only hope.
You'll need:
Bible
balloons
paper plates
paint stir sticks
hot glue
Ahead of time, make a paddle for each child by gluing a paint stir stick to a paper plate.
Have kids help inflate enough balloons so each child gets two. Read aloud Acts 4:12.
Say: When Jesus came back to life, he made it possible for us to have a relationship with God. Let's play a game to help us think about why we need Jesus.
Form pairs, and give each child a paddle and two balloons. Have pairs spread out as much as possible in your room. Explain that pairs will try to keep all four of their balloons off the ground at all times. Lead kids in playing several rounds.
Ask: What was it like to try to keep your balloons up perfectly? How was this game like trying to be perfect all the time?
Say: None of us can be perfect all the time, kind of like we wouldn't be able to keep up all of these balloons forever. We might be focusing on one area of our lives, and then another area slips. That's why Jesus is our hope. When he died and came back to life, he made us perfect in God's eyes. All we have to do is believe and accept.
Ask:
What does it mean to you that through Jesus, you're free from having to "keep all the balloons up"?
3. Resurrection Object Lesson: Raise the Ball Game
Encourage children to lift up their friends with the truth of Jesus' resurrection.
You'll need:
a Bible
1 foam cup per child
5 wooden skewers per child
1 bouncy ball per child
The object of this game is to use the skewers to gradually raise the bouncy ball from the bottom of the cup to the top until it falls out. Kids do this by poking a few skewers through the cup underneath the ball (see photo). As they continue to move the skewers higher and higher, they'll gradually raise the ball.
After kids understand the concept, encourage them to try it several times. They can race or they can compete against their previous time.
Read aloud Luke 23:50-56. Ask:
How were the wooden skewers in our game like Jesus' friends in the Bible? 
Say: Jesus is the greatest friend. When he came back to life, he brought us the greatest hope to lift our lives. But if people don't know about the hope that Jesus brings us, they might not know how to have hope in dark times. Thinking about that, what do you think are the best ways to lift your friends who don't know about Jesus' resurrection?