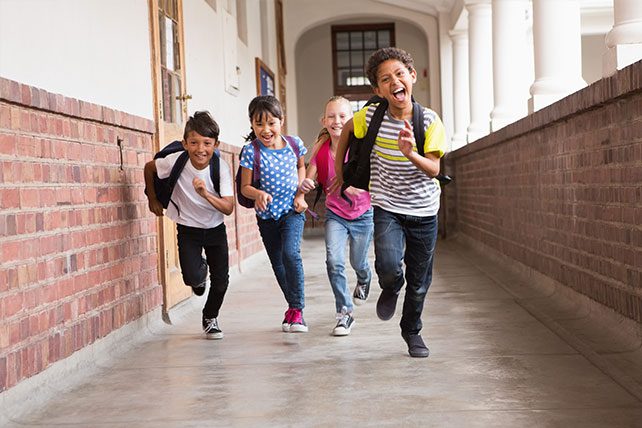 A prayer for back to school season is more important than any list of school supplies. As students and teachers head back to classrooms this fall, they need support, encouragement and prayers. If your church holds a Blessing of the Backpacks or a Teacher Dedication, you might already have some back-to-school prayers that make the grade.
But if you need new ideas, we've collected powerful, creative prayers for back to school season. Some work well with younger children, while others are great for older elementary kids. Plus many of these prayers are ideal for Sunday school classrooms and children's church, to kick off another year of kidmin programming.
A prayer for back to school can cover a range of topics. Pray that students grow in knowledge and in their faith. Pray that children remain safe physically and emotionally, make friends and include others, and use their God-given talents to serve him. Also pray for teachers and administrators, for strength and guidance in their important roles.
Feel free to share a prayer for back to school with parents at your church and children's ministry. Returning to classrooms and school-year routines can be challenging and stressful for kids and adults. So use prayers and Scripture verses to remind everyone that God is in control. He knows what's best for his children (of all ages!) and has a purpose and plan for each one.
Prayer for Back to School: 14 Ideas
Check out and adapt these back-to-school prayers for use in your children's ministry and homes.
First up, this sample prayer for back to school is based on Proverbs 2:1-11. May all our children seek to grow in godly wisdom this year!
These powerful prayers are based on key Bible verses. They cover topics such as joy, compassion, courage, and bullying.
In additional to intentional prayers for students heading back to school, this site offers a free printable. Use it for kids in all types of learning environments: homeschooling, public schools, Christian schools, and so on.
This clever idea uses Skittles colored candies for prayer prompts.
Parents will appreciate these ideas for when their kids head back to the classroom.
Here you'll find 18 Bible-based back-to-school prayer cards. Download and print them for older children to keep in their backpacks.
Although these three back-to-school prayers are short, they're packed with meaning.