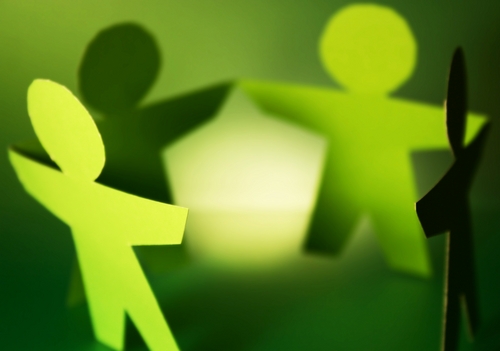 Back in 2008, I wrote an article in K! entitled "Leading with Help." In that article, I talked about how it is not God's plan for us to do ministry or life alone. That is why He has sent us the Holy Spirit. The Holy Spirit is our Teacher, He is our Guide, He is our Helper, and He is our Comforter!
When the pressures and problems of teaching kids and leading others come, you don't need to try to handle them in your own strength but in the strength and power of the Spirit of the living God! Just because you are doing the "Lord's work" doesn't mean you won't have problems. We all have problems. Psalm 34:19 tells us, "A righteous man may have many troubles, but the LORD delivers him from them all." Second Corinthians 4:8-9 says, "We are hard pressed on every side, but not crushed; perplexed, but not in despair; persecuted, but not abandoned; struck down, but not destroyed." I believe this verse describes us as "getting up" people! When we lead with the help of "our Helper"-the Holy Spirit, we are not leading in our own strength but in the strength of the promised power source.
This also works with teaching.
One day as I was leaving for work, I had an impression in my spirit that I needed to bring my bass guitar with me to church. Rather than be quick to obey, I started reasoning with myself and, to make a long story short, I blew off the leading and went to work. No sooner than I walked in my office, the phone rang, and it was the Wednesday night bass player in my pre-youth class informing me that he just got to work and found out he had to work late and asking if I could play bass myself for him. My Helper (The Holy Spirit) wanted to help me save time. As I drove back home to get my bass, I saw that the more I listened to the voice of the Spirit in small things, the easier it was to hear Him in major decisions. I also realized it would have been better for me to have brought my bass and not need it than to blow off the voice of the Spirit. I've also learned through the years never to disobey a check in my spirit. If I sense a strong leading not to go somewhere or not to do something or to pass on a worker, even if I can't explain it, I trust my Helper. Not only can the Holy Spirit help you in leading the children's ministry, we must help our teachers and volunteer workforce learn to live the Spirit-led lifves in and out of the classroom.
If we want children to be led by the Spirit, we must model it! So here are ten practical ways we can model and encourage ourselves and others to be led by the Spirit in children's ministry.
1. Start early in the week inviting your "Helper" to help you. Get in the habit of reading next week's lesson when you get home from church and ask the Holy Spirit to guide you this next week to make it real to the children. Go ahead and highlight key areas that jump out at you.

2. Pray for the children as the Spirit guides you! Call their name and pray what flows from your heart for each child and their family. Repeat this step throughout the week.
3. Set an appointment to plan and study your lesson. Start from the beginning asking the Spirit to guide your plans. Read the curriculum but listen to the Holy Spirit. I treat all curricula (even stuff I write) like catfish- I let the Holy Spirit pick out the meat, and I leave the bones! Don't wait until the last minute to study. This is an important step! Never equate flowing with the Spirit to flying by the seat of your paints. I want to have enough time to obey what the Spirit says; some things my Helper has led me to have need to be ordered or purchased.
4. Come early and be prepared. I like to set up my props, classroom, and teaching tools ahead of time so I have time to pray before the kids start arriving. I like to pray over every chair. Kids are creatures of habit and many times sit in the same area, so I call their names and let the Spirit guide me to stand in the gap for their needs and their families.

5. As the children arrive, let the Spirit direct how you spend your time. A common mistake I've seen is all the children's workers talk among themselves rather than allow the Spirit to guide the pre-service time as well as the lesson.
6. Trust your Guide. I used to illustrate this in Children's Church by blindfolding a child and giving them verbal instructions that they had to carry out without bumping into things. It's impossible to walk by faith, not sight, in our own strength. Then I would ask another child to come be a guide (just like the Holy Spirit is our Guide) and guide the blindfolded child to safety. It's much easier with a guide to follow the Word of the Lord. I have found practice makes perfect, not only in playing an instrument or developing a skill, but also in trusting our Guide! Don't beat yourself up if you miss. We serve the God of a second chance!
7. During the lesson, feel free to follow the Spirit's guiding. I love video and other teaching aides, but the most important resource you can have in the classroom is a Spirit-led teacher! They know how to follow the Spirit's leading and end up accomplishing the desired outcome for the corporate vision.