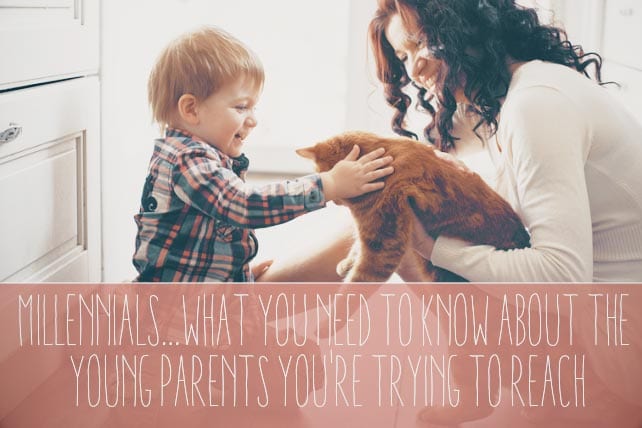 The Millennials are defined as adults between the ages of 18 and 34 in 2015. In an article earlier this week, we talked about their marriage stats and views. Now let's take a look at Millennials as parents.
There are now more than 22 million Millennials in America with about 9,000 babies born to them each day. They account for 80 percent of the 4 million annual births and the number of new millennial parents is expected to grow exponentially over the next decade.
They are digitally native, ethnically diverse, late marrying and less bound by traditional gender roles than any previous generation. They are becoming parents later … the average age being 26 compared to age 21 in 1970.
How are millennials parenting?
They are moving away from the command-and-control model that many of them were raised with. They are taking a more democratic approach. It is not uncommon for them to take a poll with their kids in deciding what to do for the weekend. They are more empathetic, understanding and questioning of what their children's needs are.
• 52 percent closely monitor their children's diet.
• 64 percent say the environment is a top concern.
• 61 percent agree that kids need more unstructured playtime. This indicates a backlash against the "helicopter parenting" of the Boomers. They are backing away from the over-scheduled days of their youth, preferring a more responsive, less dictatorial approach to activities.
• 21 percent think their kids are over scheduled.
• 48 percent believe children do best if a stay-at-home mom raises them.
• 23 percent are stay-at-home parents compared to just 16 percent of Gen Xer's and 22 percent of Baby Boomers. This indicates a traditional streak.
• 80 percent feel the pressure to be the "perfect" parent compared to only 70 percent of Gen X parents.
What do millennial parents value?
• 50 percent say they try to buy products that support causes or charities. They are often cited as one of the most socially compassionate generations ever. The brands that connect with millennial parents help them feel better about themselves through purchases and brand engagement. This is further confirmed by the fact that the top three brands they favor—Nike, Target and Apple—all have a cause platform.
• 82 percent want their child to know that they don't need possessions to be happy.
• 77 percent want their child to graduate from college.
• 56 percent want their child to excel at sports.