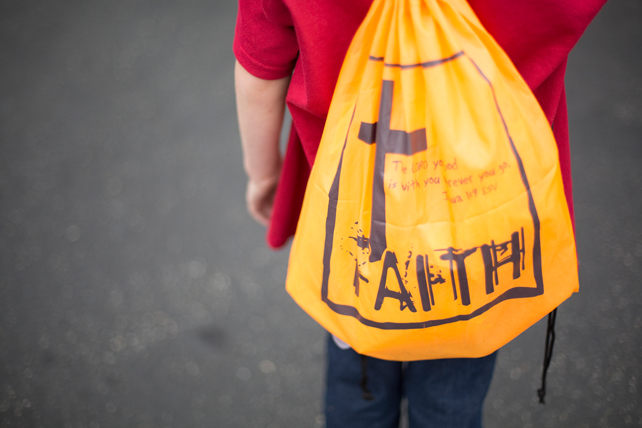 It was Friday afternoon. My wife and I were in the mall, and I was doing the nice husband thing and following her from one store to the next.
As we were approaching yet another shop, I saw a bright light and I heard angels singing…
Well, not really… but it was close enough. I saw an Apple store for the first time in my life.
IMMEDIATELY I THRUST MY CREDIT CARD INTO MY WIFE'S HANDS, ASSURING HER SHE WAS ACTUALLY BETTER OFF WITHOUT ME AND MADE A BEELINE TO THE DOOR.
Inside the store, I was instantly captivated by all the computers, tablets, phones and media players; all of them were in the open, begging me to hold them, push the buttons, swipe my finger across the screen, listen to music, watch videos and browse the web.
Everywhere I looked, people were interacting with devices. There were no passive onlookers. Everyone was engaged and everyone was having a very personal experience.
The iMac jumped out of the box, the iPhone came off the shelf, the iPod sneaked from underneath the glass counter and into my hands—all giving me a chance to explore them and really know them.
That is when it occurred to me,
THIS IS EXACTLY WHAT LIFE WITH GOD SHOULD BE LIKE—INTERACTIVE, ENGAGING AND PERSONAL.
My experience at that Apple store caused me to think about the faith we hold dear and the way we pass this faith to the new generation. I started asking myself,
"Is the Jesus I talk about safely boxed and neatly placed on the shelf of history, or is He out of the box—close and accessible to the children I teach?"
As I reflected on these questions, I realized that over my years in children's ministry, my classroom experiences more often resembled that of a museum.
In a museum, everything is pointing to the past. Everything is protected by glass or red rope. Every 10 feet you see another sign urging you not to touch anything.
I wonder if that is the impression of God our children get sometimes—that He is someone who belongs to the past, someone you can only learn about, someone far removed from the lives we live?
Are we unknowingly keeping our children from experiencing Jesus in their daily lives, by presenting Him as a museum artifact—significant yet removed from our present reality?
That is exactly what the well-meaning disciples did when they told the children to stay away from Jesus.
They tried to rope Jesus off and make Him inaccessible. This made Jesus furious.
He commanded them, "Let the children come to Me and do not forbid them."
Next, Jesus opened the "apple store" by inviting kids to climb all over Him, by placing His hands on them and speaking words of life over them.
Jesus didn't feel comfortable being a museum exhibit then and I don't think He wants to settle for that role today.
Since that memorable visit to the Apple store, I have become more intentional about "letting children come to Jesus," making sure they regularly have a chance to interact with Him and invite His power into their lives.
I am afraid that often children's ministries are guilty of being a museum.
This happens when we merely teach Bible content.
While stories about Jesus are absolutely necessary—they reveal to us who He is and give us reason to believe—if we only pass stories, we risk giving our children just half of Jesus, the Jesus boxed as a historical figure.
IN DOING SO, WE PRESERVE THE ANCIENT STORIES AND PASS ON THE FAITH OF OUR FATHERS BUT WE ARE NEGLECTING TO INVITE OUR CHILDREN INTO A PERSONAL AND RELEVANT EXPERIENCE WITH JESUS.
In order to make sure that we give children 100 percent of Jesus and not only half of Him, in our church we've made "Lab Experiences" an essential part of what we do on Sundays.
Just like other children's ministries, we open the Bible and we invite children to explore the sacred texts but then we go a step further—we encourage children to open their hearts and invite God into a specific area of their lives.
This is the time when they interact with God and experience Him for themselves.
The following seven components make up each of our lab experiences:
1. Start with where the children are.
A good shepherd knows his sheep (John 10:14).
As a shepherd of your young flock, you can't expect to have a profound impact on the lives of children if you don't take time to discover them and find out where they are at.
What are they most excited about? What are they afraid of? What are their dreams? What are their doubts and questions? How do they see God? How do they see themselves?
Be curious about children. Ask a lot of questions and draw them out. This will engage them, make the experience personal, and set the stage for everything that follows.
Jesus always meets us at the point of our honesty and this is exactly where we want to move our children—being fully open about their lives.