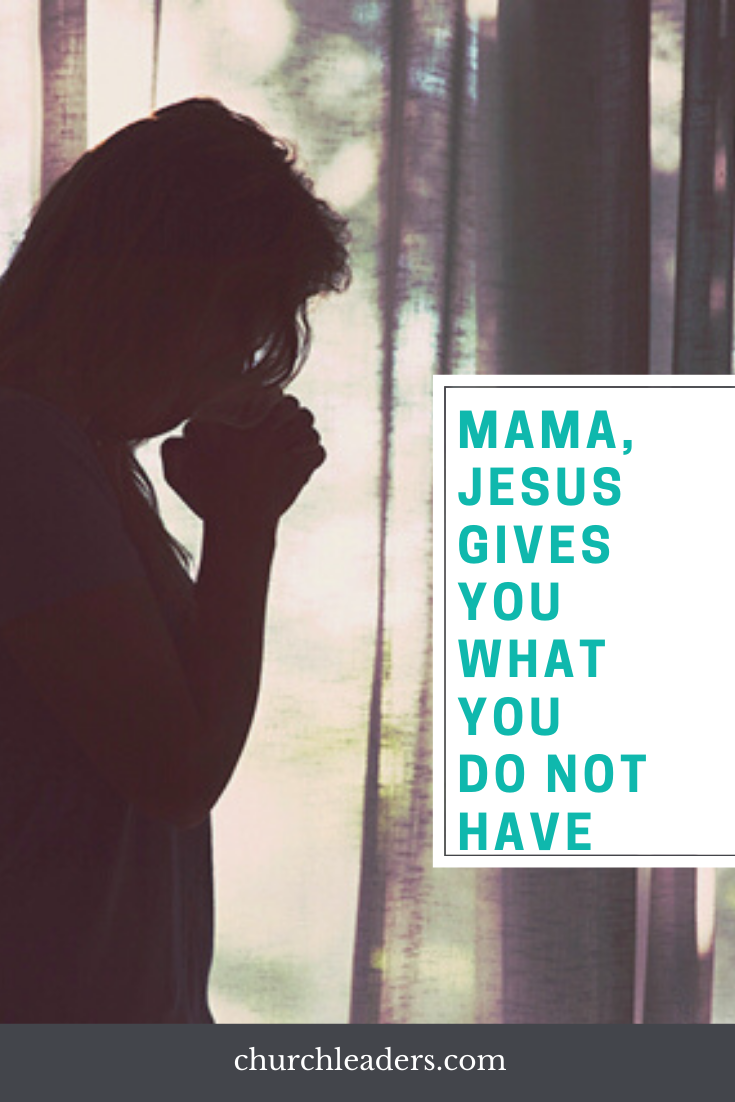 Oh, Momma, Jesus gives you what you do not have.
I close the bathroom door and breathe a sigh of relief. Thirty seconds of solitude feels like a dream, until knock, knock, knock. "Momma?" The little one comes looking, as thirty seconds shrinks to ten, and I can't remember what it was like to be alone.
I imagine the disciples felt this way after a long season of ministry (Mark 6:7-13)—poured out, spent, and ready for solitude. And this is exactly what Jesus suggests: "Come away by yourselves to a desolate place and rest a while" (v. 31).
Scripture tells us that "many were coming and going, and they had no leisure even to eat" (v. 31). Seem familiar? Jesus' prescription must've sounded just right.
But what happens next is quite the opposite of what these tired men had expected:
Instead of being alone, they're swarmed by a great crowd:
And they went away in the boat to a desolate place by themselves. Now many saw them going and recognized them, and they ran there on foot from all the towns and got there ahead of them. (vv. 32-33)
Instead of resting, they're catapulted into ministry:
When [Jesus] went ashore he saw a great crowd, and he had compassion on them, because they were like sheep without a shepherd. And he began to teach them many things. (v. 34)
And instead of taking a break to eat, they're the ones doing the feeding: 
And when it grew late, his disciples came to him and said, "This is a desolate place, and the hour is now late. Send them away to go into the surrounding countryside and villages and buy themselves something to eat." But he answered them, "You give them something to eat." (vv. 35-36)
Once again, sound familiar? What you desperately need is solitude, rest, and even a bit of nourishment, but instead you're given a knock, knock on the bathroom door, a stolen Sabbath as your spouse ends up working, and a virus—another virus—when health and energy would make you parent better. Mind, soul, and body, you simply don't have what you need.
Or what you think you need.
A Simple, Yet Profound Truth
But the simple yet profound truth of the Christian faith is this: Jesus gives us what we do not have. When you're in Christ, all that is Christ's is yours.
And this is what the disciples discovered that mercifully tiring day by the sea when Jesus told them to give the people something to eat. His straightforward command seemed simplistic. And they ask him, "Shall we go and buy two hundred denarii worth of bread and give it to them to eat?" (v. 37). Jesus can't possibly expect us to do that! We don't have the money…
Instead, Jesus tells them to take account of the food they possess, which isn't much: five loaves of bread and two fish. It must've been ridiculous to the disciples to include such meager portions. What good would a few resources do?
But that wasn't the question they should've asked, and it isn't what we should be asking. Our questions may sound more like these: Jesus, what good will my running on such little sleep do for my kids today? Jesus, these cancelled plans seem like a terrible idea when I'm trying to fill our time with good things. Jesus, just one more incident and I am gonna lose it with my son…
Instead, the question we can ask is, What resources are found in Jesus?
Receiving from Jesus
In Matthew's parallel account, Jesus then says to his disciples:
"Bring [the loaves and fishes] here to me." Then he ordered the crowds to sit down on the grass, and taking the five loaves and the two fish, he looked up to heaven and said a blessing. Then he broke the loaves and gave them to the disciples, and the disciples gave them to the crowds. And they all ate and were satisfied. (Matthew 14:18-21, italics added)
Matthew includes the important detail that the disciples took bread and fish from Jesus and then gave them to the people. In a 2018 sermon, Pastor Colin Smith called the disciples "runners for Jesus." They receive from Jesus what's found in him—unlimited satisfaction and the abundant power to share it with others. They receive from the Good Shepherd, and then they encourage the crowd to receive from him as well.
And isn't that precisely what happens when we look to Christ in our limitations? The unlimited resources and abundant power of his Spirit are magnified through our weakness and lack. So it can't possibly be us exercising supernatural joy, peace, patience, and self-control. Just as it couldn't have been the disciples multiplying the food.
Rather, Jesus gets the glory as we continually receive from him what we do not have in ourselves, and then share that abundance with others who need him too.
And even receiving from him is all of grace, for neither the disciples nor any of us deserve to come to him. The Good Shepherd has such compassion on his lost sheep (v. 34) that he willingly lays down his life for us, becoming the sacrificial lamb and taking the punishment our sin deserves. He seeks and saves the lost, and brings us back to God (Romans 5:10).
This is our privilege and calling, moms: to show our kids, and to show the world, that Jesus Christ is enough for us and can be enough for them. To testify to the treasured possession he is, and the abundant grace he gives. To proclaim the gospel in our weakness, that Jesus delights to save sinners who can do nothing apart from his intervening rescue and infinite help.
Jesus Gives What You Do Not Have
Do you need patience? Jesus gives these. He is these: "He will tend his flock like a shepherd… gather the lambs in his arms… carry them in his bosom, and gently lead those that are with young" (Isaiah 40:11).
Do you need wisdom? "If any of you lacks wisdom, let him ask God, who gives generously to all without reproach, and it will be given him" (James 1:5).
Do you need strength? "Have you not known? Have you not heard? The Lord is the everlasting God, the Creator of the ends of the earth. He does not faint or grow weary; his understanding is unsearchable. He gives power to the faint, and to him who has no might he increases strength" (Isaiah 40:28-29).
Are you lonely? "[God] has said, 'I will never leave you nor forsake you'" (Hebrews 13:5).
Are you afraid? "The Lord is on my side; I will not fear. What can man do to me?" (Psalm 118:6).
Are you discouraged? "For we do not have a high priest who is unable to sympathize with our weaknesses, but one who in every respect has been tempted as we are, yet without sin" (Heb. 4:15).
Do you feel inadequate for the calling of motherhood? "But he said to me, 'My grace is sufficient for you, for my power is made perfect in weakness.' Therefore I will boast all the more gladly of my weaknesses, so that the power of Christ may rest upon me" (2 Corinthians 12:9).
Jesus gives you what you do not have. Come, receive from him, and then give to the world what you have received: the all-satisfying, all-sustaining grace of the wonderful Savior and Good Shepherd.
This article about what Jesus gives originally appeared here.