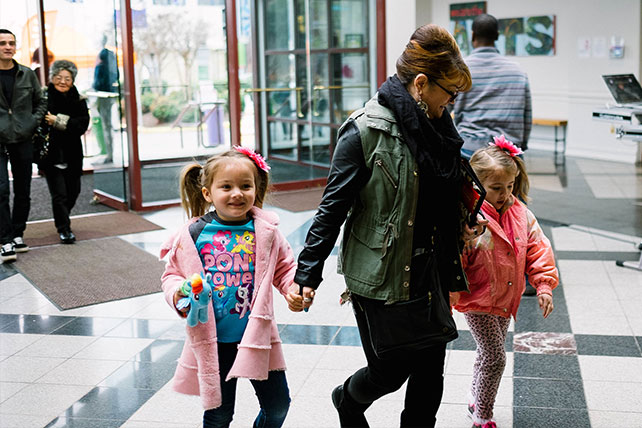 Four Types of Church Families in 2021
Welcome to the new year! You made it through 2020 which was, without a doubt, one of the most challenging years for ministry. This time last year you had no idea that you would have to completely re-envision the way you do ministry. You also had no idea this time last year that the families you are ministering to may look different as well.
If your ministry is like mine, our Sunday morning crowd looks very different since we came back. We have four groups of families who are a part of the changes.
1. Families who have been all-in the whole time. These families attended every Zoom activity. They were first in the doors when your church reopened. They've barely missed a Sunday. You may have even been surprised which families were "all in." If your church is like ours, you had some families who were regular attenders pre-pandemic who went MIA, but you also saw some families surprise you with their high level of engagement.
Take some time to personally thank these families. They may not know how their commitment encouraged you during a really tough ministry season. Let them know what you have seen God do in and through their family. The next phase of your ministry will be built on their faithfulness.
2. Families who have recently connected to your church. One of the biggest surprises to me when we reopened was the influx of new families. Multiple families have moved to our area during the pandemic. Many families transitioned in 2020. We have also had families join who are new to church altogether. The pandemic raised spiritual curiosity or caused families to reprioritize. We also have families who attended sporadically pre-pandemic, but haven't missed a Sunday since we reopened and would now be considered core.
Keep in mind that these families do not have a point of reference for what your ministry looked like pre-pandemic. Communicate clearly and don't forget to communicate those details that you assume everyone knows. New families won't know where your event has always taken place or that everyone dresses up for that particular event. They don't know what "normal" is. Everything you've been doing since the pandemic began is their normal. Also, take time to connect new families with those who have been a part of your church for a while. Prevent your congregation from feeling like two groups by intentionally introducing families to each other.
3. Those who are just now coming back. As the vaccine becomes more prevalent and other current factors change, you will begin to see families again who haven't attended in months.
Families will be nervous. They may feel awkward about being gone so long. They may still be cautious about being around people. They also may have not been around anyone in quite awhile. Be warm and welcoming. Focus on how glad you are that they are there, not emphasizing how long they've been gone. Avoid making them feel guilty.
Continue to communicate what you are doing to keep kids safe and communicate what has changed since they have last attended. For many kids, it will be like attending church for the very first time. Very young kids may not even remember going to church. Don't be surprised by separation anxiety, crying preschoolers, nervous elementary kids, or aloof teenagers.
4. Families who haven't returned. If you read this article by Sam Rainer, you know that many are predicting that church attendance will be down by 20% even when the pandemic has ended. There will be families who just don't come back.
Make a list of who still hasn't returned. Recruit a team to personally follow up with each family. When you find out that a family has moved or is attending another church, remove them from your contact list. Some families have simply gotten out of the habit.
Harassing people usually isn't very effective, but continue to periodically check in. Avoid guilt, and instead focus on relationship. You can also use the contact list as a prayer guide, continuing to pray for the families who haven't come back. In future days, this list can also be a sort of prospect list. Specifically invite these families when big events are coming or new ministries are launching. Sadly, there will be families on your list who simply do not return. Keep them on your radar as much as possible, but give the majority of your attention to the families God has brought and reaching unbelievers.
2021 will definitely be different, but God has many incredible things in store. As you share the love of Jesus, may God give you discernment to reach each family right where they are. Happy New Year!
This article originally appeared here.