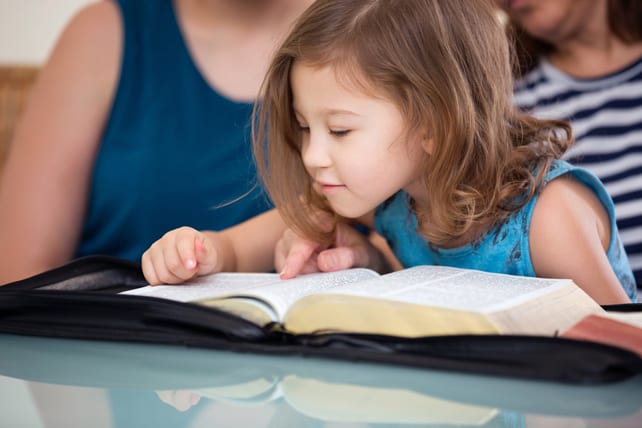 It is a truly exciting thing to be involved in your child's spiritual journey. The fact that you are reading this is proof that you are genuinely invested in your child's spiritual future. Ensuring your child is well cared for in terms of physical and emotional provision is certainly important. However, the greatest contribution you can make to a child's well being is leading a child to Christ and instilling a fervent love for Jesus Christ. But how does this happen? What steps must a parent take for leading a child to Christ? How can you ensure that what happens at church is a supplement and not a replacement for spiritual guidance at home?
Deuteronomy 6:4-12 provides an excellent framework to answer these questions. It commands parents to nurture their children spiritually during all parts of the day: at home, during travel time, when waking up and when going to sleep. These are all excellent times to share the Word of the Lord with your children and take intentional measures to grow them in Christ. As you read further, you will be encouraged in your attempts to spiritually impact your child.You will get some helpful hints in communicating the gospel to your child and learn about several means by which you can measure your child's spiritual health. May the Lord bless you as you take bold and loving steps for leading a child to Christ.
The X-Factor for Leading a Child to Christ—YOU
Paul praises Timothy's grandmother, Lois, and mother, Eunice, for imparting the gospel into young Timothy's life. The primary way of leading a child to Christ is through the faithful testimony of your own life. Paul, in I Timothy 1:5 calls this a "sincere faith." Your child has watchful eyes and will attentively notice your spiritual ups and downs. He will easily discern if Jesus is the love of your life and learn from you what makes up a Christ follower. He will observe how you go about growing in Christ and how you show your love for Christ to the rest of the world.
You are the X-Factor. Being an X-Factor means that you are a special piece of your child's spiritual puzzle. You hold an almost irresistible influence over how your children will develop spiritually. Here are a few self-examination questions for you:
How have you exhibited great faith in God to your child?
Have you been transparent with your children about your imperfections and need for forgiveness?
Do you openly talk about Jesus and how He is impacting your life with your children?
Do your children see in you a general desire to please the Lord?
Do your children witness you reading God's Word on a regular basis?
Do you pray often and lead your children in times of prayer outside of bedtime and meal time?
Communicating the Gospel for Leading a Child to Christ
Kids (and all people for that matter) need to be certain of the facts of salvation before they can respond appropriately. When teaching your children the gospel message be sure they recognize the basic premise that they are sinners and that because of God's great love for them, He allowed His son Jesus to be crucified, buried and resurrected for their sin. Here are some Scriptures you can utilize to help convey these truths:
Repentance and faith are the internal responses that God desires to work in us in order to save us from our sin. It is good to raise a child up to know the Scriptures and to talk of the things of the Lord. However, a child is not "born" a Christian. He, as anyone else, must be born again (John 3:5) by a work of God in his heart. As a parent, you must be able to see some sort of change in his life as a result of his repentance and faith. Repentance is a literal changing of mind and heart. It is a recognition that sin is destructive to one's relationship with God and a turning toward God recognizing that one needs Him. Faith is a reliance on the death, burial and resurrection of Jesus to wipe away one's sin. It is a personal trust and approval in the person and work of Jesus.
When talking about the gospel with your child, you will want to be sure to use clear terminology. Until about the age of ten or eleven, children tend to think very concretely. They may not understand the metaphors we use to communicate the gospel.