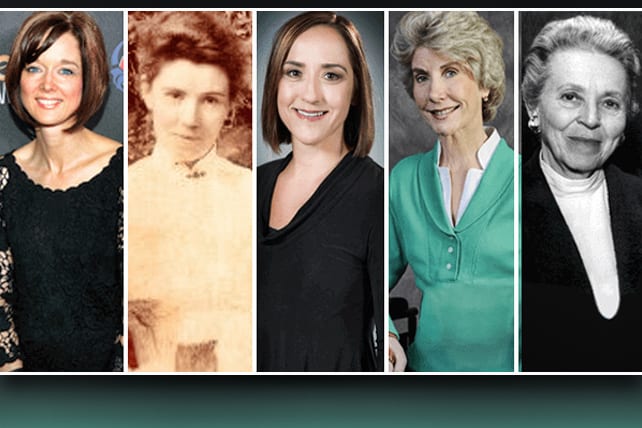 Mighty women throughout biblical and church history have contributed much to the faith, often at very steep costs. They have gone to the uttermost parts of the earth on missions. Written hymns. Shared the Gospel in their homes and cities. And their contributions to the rich tapestry of our faith should be honored.
Here are five women who have significantly impacted the church for the Gospel of Jesus.
Joni Eareckson Tada
It's hard not to know the story of Joni Eareckson Tada. After a diving accident made her a quadriplegic at the age of 18, she struggled with depression and doubt when it came to faith. It was in those struggles that she eventually came to the Lord.
Joni Eareckson Tada is a champion for people who have disabilities, and a teacher who reminds the church to see all humans, regardless of ability, as made in the image of God. She has shared openly about her own walk with the Lord and the challenges she's faced in life, including a breast cancer diagnosis in 2010. Her words resonate with millions around the world as she spreads the gospel. Her life is an inspiration, paving the way for many in the body of Jesus who have developmental struggles or disabilities to minister and contribute.
Ann Voskamp
In 2011, a little book simply titled One Thousand Gifts settled on Christian bookshelves and changed the way people looked at Thanksgiving. Ann Voskamp was catapulted onto best-seller lists and became a staple in Christian Living with her blog "A Holy Experience," which details her everyday live, causes she believes in, and encouraging those to participate in the beautiful and hard things of the Bible.
With a quirky writing style, but the ability to write straight to the heart, Ann has gifted the church with words that call us to simple faith, deep love for Jesus and a desire to love people well. She's been honest about her struggles and unafraid to challenge her readers to action. Her words changed the course of an entire generation, exhorting them to thanksgiving for the great gifts of God and encouraging them live them out every day. Ann bares her heart and soul about the tough things in life, and has become an example of what authentic Christian life in an ever-changing culture can look like.
Elisabeth Elliot
Her story was something out of the New Testament. A husband martyred for his faith in Jesus in Ecuador. She returned to Ecuador a short time later with her small daughter to preach the Gospel to the same tribe who killed her husband. She wrote 40+ books on enduring faith, purity in relationships and the family.
When Elisabeth Elliot died in 2015, the Christian church deeply mourned the loss of one of its most influential mothers. Elliot spoke with intensity and great depth about Scripture and how it applies to every aspect of life. She modeled discipleship. She showed the church what it means to persevere and endure in suffering. Elisabeth Elliot understood the importance of leading people to intimacy with Jesus. And she highlighted others in the faith who did the same thing. Her legacy of faith, love and hope continues to endure.
Amy Carmichael
In her biography on Amy Carmichael, Elisabeth Eliot wrote that Carmichael's great longing was "to have a single eye for the glory of God." Amy Carmichael was a missionary in India. She spent more than 50 years in the country, founding an orphanage and mission in Dohnavur. Her life and ministry, outlined in her own books, as well as a handful of biographies, have been an example to generations of Christian missionaries.
Before India became her home, Carmichael spent years working with mill girls in Manchester, England. But it was a speech from missionary Hudson Taylor in 1887 that changed her path to the call of missionary. Eventually ending up in India, Amy Carmichael spent her years resucing young women and girls from temple prostitution. Eventually they added a boys home to the mission, supporting children born from temple prostitutes.
She often dressed in Indian dress, darkened her skin with coffee and allowed the workers in the mission to be called by Indian names. When asked what missionary life was like, she responded with, "Missionary life is a chance to die." Her legacy lives on in India with the mission in Dohnavur still continues, serving more than 500 children in the area.
Christine Caine
Christine Caine knows how to command the attention of a room. She speaks boldly and with authority on issues relating to human trafficking, leadership and the Gospel. She's been open about the obstacles and tragedies in her life, from sharing about the sexual abuse she endured as a child, to fighting cancer.
Along with her husband Nick, they run A21—dedicated to rescuing people out of human trafficking and educating the church and culture on the issues of trafficking. Caine is also a frequent speaker at conferences and workshops around the world. Most recently she joined Propel Women, a movement dedicated to celebrating every woman's unique passion, purpose and potential.
She has impacted the way the church sees women teachers and isn't afraid of challenging the body of Christ to stand boldly against the world, the flesh and the devil. She speaks directly to women, encouraging them to move into their God-given gifts and to help them lead more effectively in the church.
As we look at these five women, and millions of others who have positively impacted the world for Jesus, we don't hold them up to idolize them. Instead, we see them for who they are: women who have sacrificed their lives for His sake. Out of their own brokenness, struggle, heartbreak and hurt, they have preached the gospel of Jesus in a world desperate for hope. As we live our lives, may we emulate that same heart and attitude in our walk of discipleship.