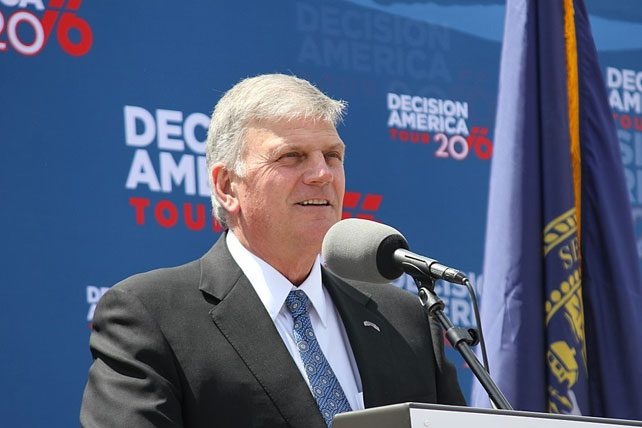 On Tuesday, Donald Trump held a meeting in New York with over 900 Evangelical leaders and conservative Catholics to allay some of their concerns about him. Franklin Graham, the president of the Billy Graham Evangelistic Association, addressed the crowd before Trump took the stage and called out some of Trump's characteristics that he believes makes him the better choice over Hillary Clinton.
Some of the leaders present at the meeting spoke with The Christian Post and shared highlights from Graham's speech.
He's not the 'perfect' candidate
One attendee, Bishop E.W. Jackson, said Graham addressed evangelicals' concerns about Trump's faith by saying "there will never be a perfect candidate as much as we would like one…we don't get to choose between perfect evil and perfect good. We get to choose people that we believe are at least inclined to, open to, have the possibility of doing what is best for our country." Recap: Trump is a sinner like the rest of us and we should be willing to look past that fact.
He's like Moses and David
Graham also compared Trump to two other flawed leaders from the Bible: Moses and David. Reminding the leaders present that no one is perfect and we all sin. Including these two exemplary leaders who shepherded Israel to their best abilities. Both Graham and Jerry Falwell, Jr., who also gave a preliminary speech, assured the audience that Trump believes in Jesus.
He's better than the alternative
Graham stated Trump's alternative, Clinton, offers no hope whatsoever. Later that day, after his speech, Graham posted a statement on his Facebook page highlighting three main issues Trump addressed in his time with evangelical leaders:
1.) Religious liberty issues: Trump said he would appoint great Supreme Court justices (the next President could have the chance to appoint up to five).
2.) Poverty, crime and racial tensions: Trump said he would create jobs for Americans, which would greatly help.
3.) Supporting Israel: Trump explained Israel is our "number one friend in the Middle East" and that he would stand with Israel.
Despite his clearly positive speech about Trump, Graham emphasized in his Facebook post that he's "not endorsing any candidates," and that "this year's election is critical for our nation."