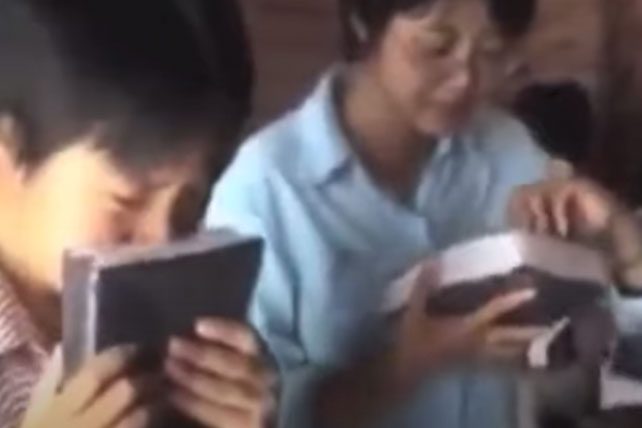 Did your parents ever tell you to "think of the starving children in Africa" when coercing you to eat your dinner? Well, God could say something similar when it comes to reading his word, as the video below points out.
The people in this video are not in Africa, but China, where the distribution of Bibles is highly restricted and, in many places, very dangerous. For Chinese Christians, simply to be in possession of a Bible incurs additional scrutiny and likely trouble. Sometimes rural villages will only have one Bible (or a part of one Bible) for all the believers in that region.
It's hard for Westerners to know exactly the state of the church and what is going on in China. Between the government trying to save face to outsiders and its iron grip on the religious practices of its citizens, not much is leaked about the real state of Christianity in China. However, as the video below shares, believers are alive and well, despite the persecution, and longing for the word of God.
The following video was shot by a missionary who caught the joy of a group of Christians receiving Bibles for the first time. Despite it being a little blurry, you can clearly see men and women overcome by tears as they embrace the book they've waited so long to possess. One woman says, "It's what we've needed most," as she tries to hold back tears. Others are seen carefully but eagerly taking the shrink wrap off or kissing the book. The joy in the room is tangible.
It's hard to watch their reactions and not feel convicted for apathy toward the word. Something we have access to every day (in countless formats) is such a precious commodity to our brothers and sisters in places like China.