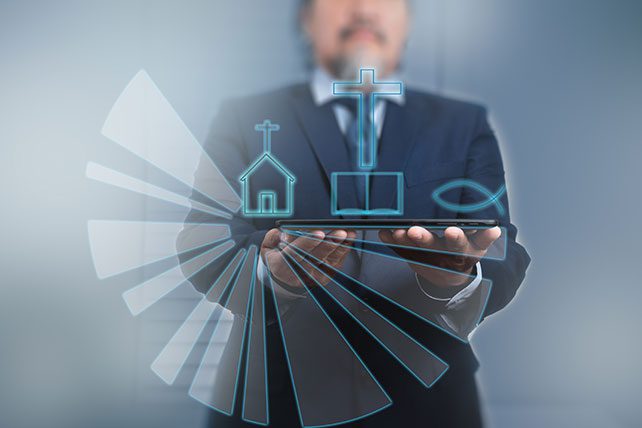 One of the coolest things about living in the digital age as we know it is having the ability to connect with people that you have never met in real life. This is just one of the benefits of technology in church.
In my organization we have an internal chat, a reference board, and an ideation group set up so that we can be in constant communication with one another. Frankly, none of us have met face to face, at least to my awareness, and that to me is quite amazing. With the rise of such relationships, and the widespread usage of technology, I want to hit on a few benefits of having these technologies in our hands. Along with that, there is of course a word of caution: moderation. Alright, let's examine these five benefits of technology in church.
5 Benefits of Technology in Church
Benefit #1: Communication
Communication is possible from anywhere in the world (well, almost). Whether you are in India, Australia, Germany or Madagascar, you can communicate with others. I will put a disclaimer here: You most likely will need the Internet for access. In the end, we can help missionaries around the world.
Benefit #2: Productivity
Increase in productivity. Truth be told, there are a lot of distractions that come with this technological advancement, but productivity has increased in my life and the lives of many. It'd be fun to dive into some statistics right about now, but alas, that could be for another time. What I can say, though, is that if I didn't have any technology, it would be difficult to do what I do every day. Being in a wheelchair, technology has given me a lot of advantages to living life to the fullest and has helped me to work on projects for the world wide web that I hadn't even dreamed of doing.
Benefit #3: Accessibility
Greater accessibility for all. From those who don't have a huge library full of resources, to those who have never had a solid education, technology has opened up new realms of knowledge to many. To add to the wealth of education that has been made accessible, technology gives those who are hearing impaired, have sight problems or are confined to a wheelchair the ability to connect with the world and make a difference. We can get the message of Jesus into so many people's hands.
Benefit #4: Archive
Journaling our lives is simple with a smartphone that has a camera and note-taking app. The smartphone right next to our computer is a powerful device. It can help us capture moments of our lives that we determine to be significant, no matter how big. These are those times that we can return to and remember what God has done for us.
Benefit #5: Music! 
New music is being created. Thanks to the amazing software engineers of our day, digital audio workstations (DAW) have been pushed to a new level of sonic architecture. I have been hearing sounds that I've never heard before thanks to Logic Pro, Ableton Live, Pro Tools, Reason and the wide variety of extensions available for these applications. These sounds that are made can draw others to the love of God.
So, there you have it: five benefits of technology in church. If you can't tell, I'm a technological and digital enthusiast. I still love analog, but technology is truly a life-giving arena of the world. If you find yourself distracted by technology issues, it is a clear indicator to hire a merced it support service provider.
Enough about my thoughts on the benefits of technology in church, is there any benefit that I left unlisted?