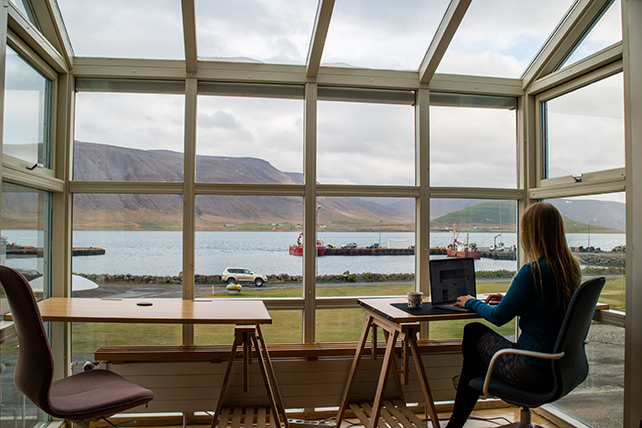 The pandemic has thrust many changes upon us in rapid fire succession. Things we used to take for granted are available no more and our daily lives and jobs are in a constant state of flux. One of the proposed solutions to the current situation to keep the economy running is for employee to start working remotely. While working remotely is a tremendous tool it is not a one-size-fits-all solution and in some cases may do more harm than good.
Working remotely has been an option that was chosen by the employee. Employees either requested to work remotely because they knew it would benefit how they worked, or the employee applied for jobs that specified the requirement to work remotely. Either way it was a choice and not something forced on an employee after the fact. What's happening now is employees who did not apply for remote jobs and who are used to working in an office are being told to work remotely, which is a significant, unplanned, and often unprepared for expectation.
The adjustment to working remotely can be difficult for some. I work remotely about 50% of the time. For me the benefit and ability to work remotely makes much of my ministry possible but I recognize it isn't for everyone. Here are some tips to make the transition easier if you are struggling.
Communicate
If working remotely isn't for you it is best to speak up sooner than later. Don't wait until you start falling behind in your workload and begin to require more resources than you're providing. The process of communicating is also different when you are working remotely which can further complicate your ability to be productive. Talk to your supervisor, use the chain-of-command and get help if you are struggling working remotely.
Set Boundaries
Boundaries are important to establish a balance between work life and home life now that the two have become one. When possible have dedicated spaces at home for work and home life. For example, use the dining room for school and work and the kitchen for eating. If that isn't possible, make a room transition by removing all school/work from the kitchen before using it for dinner. These transitions help ensure the space you are occupying doesn't become a hindrance.
It is also beneficial to communicate when you are working vs. when you are home. Everyone in the house should know when you're working. This can not only help avoid awkward interruptions while you are on video calls but helps enforce a needed boundary. When you communicate that you are working your family should connect with you as they would if you were not physically working in the house.
I have a dedicated office at home and when I leave my office and go to the kitchen for lunch or when I'm done working for the day I announce, "Honey I'm home." Even my wife's dog Boiler, short for Boilermaker, after the Purdue Boilermakers, has had to get used to not have access to me all day even though I'm in the house. But he comes running as soon as he hears those magic words, "Honey, I'm home."
Read, Write, and Take Notes
As I've mentioned, working at home isn't for everyone. One area where that becomes quickly evident is when folks fall behind due to the volume of reading remote work requires. Without the ease of walking down the hallway many meetings and discussion are happening via email or online chat. Video conference calls also have a more intense nature as you have those talking, those chatting, and those sharing documents. It can all be a lot of information to consume in a relatively short period of time. Not to mention all the instructions and procedural changes being sent out to cope with rapid operational changes in your organization.
Writing is also key as that becomes the primary way to communicate back to your coworkers. Writing concise, well organized emails and the ability to chat briskly to keep meetings moving are crucial to keeping current with the swift flow of data that surrounds us.
Here are a few ways you can keep up if you aren't a voracious reader or able to write volumes:
Reference your existing resources. Before asking someone to say or send something again check your inbox, sent items, deleted items, and chat histories. This is a great way not to drain resources.
Take notes. There is nothing wrong with using a Word document, or OneNote/Evernote, or even an old fashion legal pad to keep notes. Notes of any kind can be a great personal reference.
Even though you may not be in school these changing times requires us to spend our time differently. Study and review what happened during your day and prepare for the next day.
Get a Routine
It can be easy to just wing your working from home routing. Research suggests that is not an effective way to work from home and as we appear to be in this for the long haul keeping a schedule and routine is as important for the remote worker as it is for their family.
Keeping a routing also helps ensure that normal life isn't forgotten. It is still good to brush your teeth and comb your hair and make sure you're presentable for all those video calls, at least from the waist up. Keeping a routine is a surefire way to maintain productivity and not drain resources from your organization.
While this may sound stringent, remember the goal is to stay productive. There are many benefits to working from home. I've been able to have more lunches and spend more time with my family. We are creating quarantine memories.
Remember, God has put us in this situation for His glory and our benefit. If you aren't wired to work remotely, remember this will end. Also remember employee's will be evaluated (on heaven and on earth) so if you need help, get it before it's too late.
Jonathan Smith is an author, conference speaker, and the Director of Technology at Faith Ministries in Lafayette, IN. You can reach Jonathan at jsmith@faithlafayette.org and follow him on Twitter @JonathanESmith.