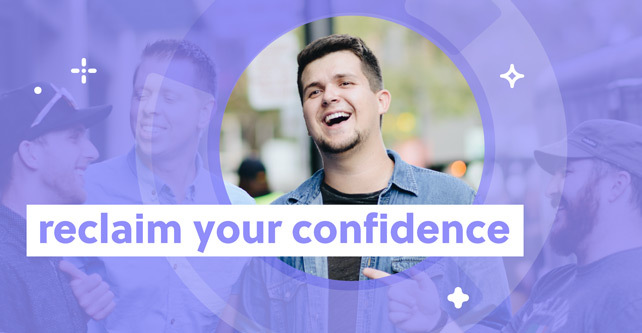 It's no secret that church leaders and staff are wearing many hats right now. 2020 hit the gas pedal on change and accelerated everyone 10 years into the future. Since then, churches have felt the pressure to go digital in a big way. To pile on fancy tools, lighting, and editing. To post, post, post on social media, email, and every other communication channel available. Unfortunately, all the expectations, upkeep, and overextending is taking a toll on churches.  
As engagement specialists and champions of community, we encourage you to hit pause on all that noise and take a more simplified approach to church member engagement. 
Push back on that pressure and try these 6 ways to reconnect + reclaim your confidence:
1. Re-center.
You were forced to adapt to so much overnight, and while some changes will stick, others may not make sense for your church in the long run. That's why, if you haven't reflected on your mission and your "why" lately, it's a great time to revisit this. Grounding yourself and your team in the mission of your church is the first step to more authentic digital and physical experiences at your church. (Authenticity opens the door to engagement!)  
2. Do an audit of your tech line-up.
You've probably added quite a few apps and other digital tools to your tech stack as of late. Now, it's time to declutter, cut, and simplify where possible. Start by taking inventory of what you have, then assess if each "thing" is providing enough value to justify the cost, whether that's money or time. Lastly, ask yourself: Can I integrate or consolidate any of my software? The more you and your members can do from one central place, the better.

3. Streamline processes, communication + connection.
You don't want your members searching their inboxes for one thing, checking Facebook for another, and scouring your website for everything in between. All of that gets in the way of what matters: action + connection. Our advice is to establish one "go-to" place for church information and content, communication, and next steps. Not only will this save you and your team time and energy (no more fielding repeat questions, stressing about scattered communications, or hunting down participants!), it will also streamline connection within your church.
4. Lean into your talents (and your team's).
Many church leaders and staff members are being forced to take on responsibilities and roles they aren't passionate about or they aren't good at. And that's not a criticism, none of us are good at everything, nor do we really want to be. One thing that can help with this is to prioritize your goals and ministry initiatives based on your team's strengths and talents. 
5. Leaning on data doesn't hurt, either.
Trusting your gut goes a long way, but when you're constantly making decisions, it's not practical or feasible to solely rely on intuition and hearsay. Making decisions based on your experience and expertise in addition to data will help you make more confident, informed decisions. 
The easiest way to collect, view, and analyze data is through a connected engagement platform. For example, Together+ powered by aware3 collects and categorizes church member data from all tools in the platform, including church mobile app, church giving, forms + registrations and more! That way, whether it's giving habits, in-app downloads or volunteer activity, you'll have the data you need to plan, strategize, and better equip your people. (Plus, all the data + insights you need to easily track, measure, and grow engagement!)

6. Keep it simple, seriously.
It's true that many methods for preaching the Gospel are evolving, but that doesn't mean your mission, message, or the heart of your church should change with them. You don't have to have a large online presence or a flashy personal brand to meet the needs of your people in today's world. In our opinion, tech should never be the destination, it should be the bridge. Your digital tools should allow you to meet your people where they're at, facilitate connection, and make it easy for them to take meaningful steps forward in the real world. And that can be as simple as sending a text or providing spiritual resources in an app. 
Modernizing your church isn't about elaborate solutions, complicated strategies, or grand digital experiences, it's really about simplification—for you and your members. We live in an age where ease-of-use, clarity, and efficiency are the expectation, but the good news is, we also live in a time where people long for connection, community, and spiritual growth. Our hope is to help you bridge those worlds so you have a clear path to engagement.  
We always say the journey's better together, so if you'd like help working through any of the things we've covered here, we'd love to help.