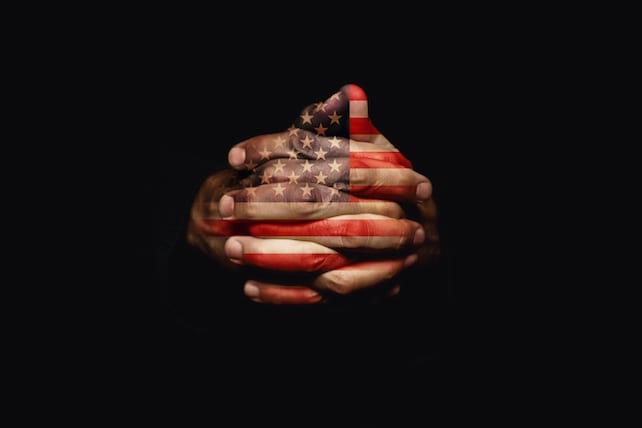 This Friday, January 20, 2017, the United States will swear in its newest president: Donald Trump. It's no secret this election has been one of the more polarizing times in our nation's history—even among Christians. In light of the inauguration and the feeling of uneasiness that is resting on us, we've put together five scripture-based prayers you can pray as America swears in our 45th president.
These Scriptures are taken from a widely-read passage of the Bible—Jeremiah 29. This is a letter the prophet wrote to the exiles who had been taken to Babylon and forced to live under the rule of a Babylonian king. Although our circumstances may not line up exactly with the exiles to whom Jeremiah writes, his instruction to keep their hope and their faith in God during a very troubled time is exactly on point with what we need to be praying during this season of our own history.
Pray for the peace of the city
But seek the welfare of the city where I have sent you into exile, and pray to the Lord on its behalf, for in its welfare you will find your welfare. (vs. 7)
Suggested prayer: Lord, we ask for peace to reign in Washington D.C. as Trump is sworn in as well as in the cities throughout our nation. Please protect us and keep us safe. Help us to prosper, even when everything in our circumstances indicates we shouldn't or probably won't.
Help us not to be deceived
For thus says the Lord of hosts, the God of Israel: Do not let your prophets and your diviners who are among you deceive you, and do not listen to the dreams that they dream, for it is a lie that they are prophesying to you in my name; I did not send them, declares the Lord. (vs. 8)
Suggested prayer: Lord, help us not to fall prey to things like deception, false reports and false prophecies. Help us to be able to discern between the truth and lies. There has been so much falsehood in the election season, it's hard to know what is true. We ask that you open our eyes to the truth and rely on what you've told us to be true through your word.
Give us a future and a hope
For I know the plans I have for you, declares the Lord, plans for welfare and not for evil, to give you a future and a hope. (vs. 11)
Suggested prayer: Lord, so many are full of fear over what this new administration may bring. We ask you to speak comfort and hope to our hearts as we enter this new season. Help us to trust that you have good things planned for us and that if we put our trust in you, we won't be disappointed. We can't trust in rulers or government systems, but we can trust in you. Please help us to hope in you to bring about a good future.
Help us to seek you with our whole heart
Then you will call upon me and come and pray to me, and I will hear you. You will seek me and find me, when you seek me with all your heart. (vs. 12-13)
Suggested prayer: Lord, your word says we will find you when we seek you with all our heart. We're asking you to please turn our hearts back to you, to help us to seek you in every area of our lives—in our families, our occupations, our choices, our responsibilities, and the resources and people we steward. We are accountable to you for everything we have and we ask that you help us to seek your heart and your will for everything entrusted to us. Where our hearts have gone astray after idols, Lord, where we have allowed something else to take your place, please correct us.
The final point doesn't come from Jeremiah, but from Paul's letter to Timothy.
Please help our new President
First of all, then, I urge that supplications, prayers, intercessions and thanksgivings be made for all people, for kings and all who are in high positions, that we may lead a peaceful and quiet life, godly and dignified in every way. (1 Timothy 2:2)
Suggested prayer: Lord, you instruct us to pray for our rulers, and so we ask you to please help Trump to rule our nation well. It is an incredibly difficult and taxing job he is stepping into, so we ask you to guide him with wisdom, understanding and humility. Please help his administration to make and implement just laws, to be diplomatic and gracious with other nations, and to care for the people in their charge. We ask for your mercy and grace on the President and his administration.
Whether you are planning on watching the inauguration or not, please take the time to pray as our nation enters a new season. A lot of people are anxious, fearful or upset about the situation. Whether you agree with these people or not, please be considerate. This is not a time to voice opinions or bring someone around to your point of view, but a time to minister to those who may be having a hard time with this election.