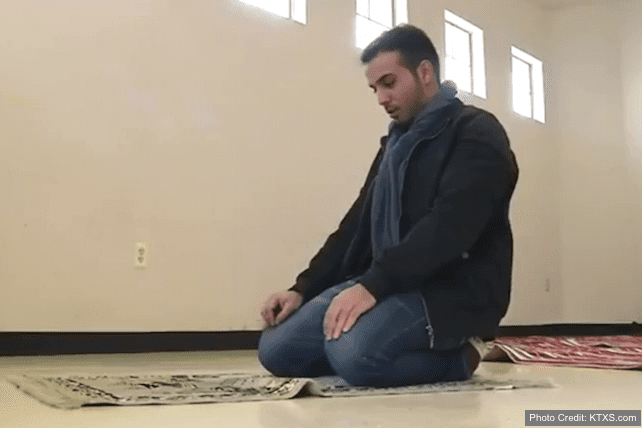 In an effort to accommodate Muslim students on their campus, McMurry University has created a prayer room in one of its residential dorms. The small Methodist-affiliated university is located in Abilene, Texas and is home to a growing number of international students—some of whom are Muslim.
In an interview with a local news station, Jeff Lust, the University's Chaplain, says providing the prayer room gives these students a chance to have "the best educational environment possible." Previously, Muslims students would meet at a hotel nearby the university to pray. Since one of the five pillars of Islam is to pray at five set times a day (ideally in a mosque with others), this presented a problem for students trying to fulfill their religious duties and also get to class on time.
Joe Yousef is a student and the president of McMurry's Saudi Student Club. In an interview with TheCollegeFix.com, Yousef admitted not everyone on the campus was pleased with the prayer room.
This is not how senior Hector Flores felt, though, when he told reporters, "Being Christians, we should be open to free religion and letting everyone do what they want to do and I think the Muslim prayer room gives them that chance."
Yousef says there are about 60 Muslim students on campus, most of whom are from Saudi Arabia. Another student who utilizes the prayer room, Sultan Albogami, told reporters he hopes the move will help break down the stigma against Muslims. "I think what people hear about Islam is different then what Islam is," Albogami says.
Chaplain Lust also sees the development as a "great asset" for students from both backgrounds to create conversation and learn from one another. "We need to learn to live and work together in this world that is increasingly diverse and then we can truly become better together," Lust says.
About 1,000 students are enrolled at McMurry University. On the university's About page, they state they are guided by the Christian faith as the "foundation of life." On their campus, the prayer room for Muslim students is big enough for about 30 people now, but the group is hoping to outgrow it in the future.