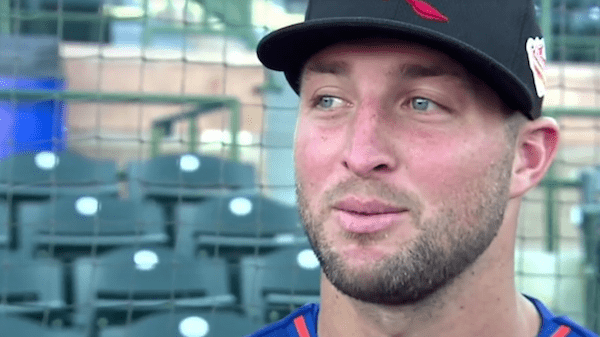 Tim Tebow took to his professional sports platform again to say something really, really good.
The video below was posted yesterday, February 27, 2017, by the Wild Card to their Facebook page. Tebow was asked by interviewers how he juggles his career and his charity work. Instead of the response you might expect from someone who makes a living playing sports, Tebow talked about his purpose in life and how it is so much bigger than any sports achievement.
Tebow said, "We can pursue [sports], we can give it so much of our time, energy, and effort, but at the end of the day I know that's not why I'm here. That's not my biggest purpose, it's not my biggest calling." Tebow said he doesn't want to be known for being a good football player or baseball player. "I want to be…known for bringing faith, hope, and love to those needing a brighter day in their dark hour of need."
Tebow concluded by saying even though he feels sports aren't the main part of his life, he is grateful for the platform they have given him to speak about faith and help people all around the world.