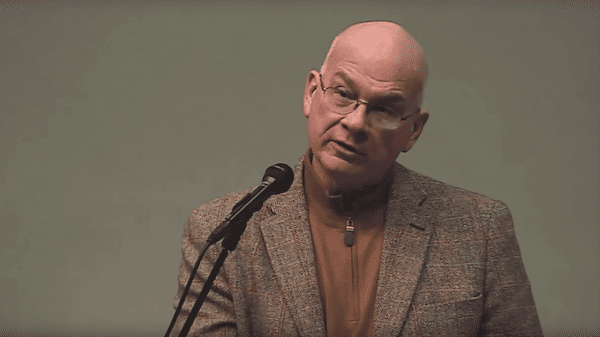 UPDATE
President Barnes of Princeton Theological Seminary sent an update today, March 22, 2017, regarding the seminary's controversial pick of Tim Keller for the 2017 Kuyper prize. Despite his original email communication to seminarians stating the seminary would hold to its choice of Keller, Barnes now says Keller has agreed to "graciously" honor his commitment to speak at the April 6th event, but will not receive the prize.
Barnes explains awarding the prize to Keller would "imply an endorsement" of his PCA views that women and LGBTQ folks should not be ordained. However, in the interest of allowing the seminary to encourage open dialogue between those in the broader American church and academic world, Barnes says Keller will still be delivering the address on theologian Lesslie Newbigin.
In this new statement, Barnes indicated several concerned parties expressed their viewpoints on Keller's nomination with the seminary's administration (both for and against the nomination). "It has been a hard conversation, but one that a theologically diverse community can handle," Barnes concludes.
Traci Smith, whose blog on the inappropriateness of the Keller nomination circulated widely following the announcement, was very encouraged by Barnes's statement. "Yes to academic freedom. Yes to listening to others whose opinions are different from our own (no matter how distasteful they may be.) No to giving large fancy prizes that can be confused with endorsement," Smith writes.
---
Each year, Princeton Theological Seminary awards a scholar or community leader the Abraham Kuyper Prize for Excellence in Reformed Theology and Public Life. Along with having an auspicious title, it's a major award—one that is to be accepted while giving an equally impressive speech. This year, Princeton has chosen Timothy Keller as the prize recipient, but some in the church are not too happy about Keller's appointment.
Traci Smith, a minister and Princeton Seminary graduate, took to her blog to express her concerns over Keller being named for this prize. The crux of Smith's opposition, along with hundreds of other seminarians who have re-tweeted her blog, is that Keller is a pastor in the Presbyterian Church in America (PCA) and therefore holds to its doctrinal views. The PCA is a more conservative Presbyterian denomination than the PC(USA), of which Princeton Theological Seminary is a flagship institution. Among their differences: The PCA does not ordain women and "excludes" LGBT folks.
Smith summarizes her opposition this way: "An institution designed to train men and women for ministry shouldn't be awarding fancy prizes to someone who believes half the student body (or is it more than half?) has no business leading churches."
While Smith admits she can find common ground with Keller, stating she would happily "go to the church he pastors and listen to him preach" and invite him to her church to listen to her preach. However, unless "Tim Keller is prepared to argue for the ordination of all the women students of Princeton Theological Seminary, the The Abraham Kuyper Prize for Excellence in Reformed Theology and Public Life" is not the prize he should be receiving.
Smith then called on the people at Princeton who named Keller to explain their choice. Apparently, more people than Smith aired their concerns with the prize pick, warranting Princeton Seminary's president, Craig Barnes, to send seminarians an email explaining the reasoning behind the Keller choice. Barnes acknowledges the discomfort some have with Keller and the denomination he represents, considering Princeton "clearly stand[s] in prophetic opposition to the PCA and many other Christian denominations that do not extend the full exercise of Spirit filled gifts for women or those of various sexual orientations."
His argument for the justification of the invitation, though, centers on allowing diversity of theological thought and practice to flourish at Princeton. With such diversity of thought comes invitations to controversial speakers so as not to "exclude voices within the church."
Barnes concludes the letter asking recipients to "receive Rev. Keller in a spirit of grace and academic freedom, realizing we can listen to someone with whom many, including me, strongly disagree about this critical issue of justice."
Keller's name does stand out among the list of previous prize recipients, which include professors from Yale, Bard College, the University of Notre Dame, Pulitzer prize winners and congressman John Lewis.
Keller will speak on the theologian Lesslie Newbigin when he receives his prize on April 6, 2017, at Princeton.