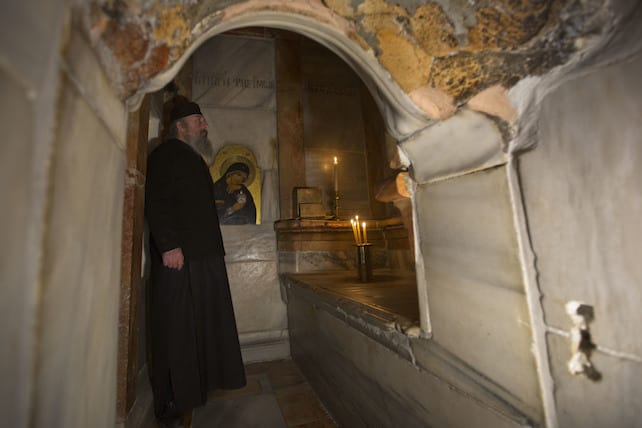 A nine-month, $4 million restoration project on the Edicule, housed in the Church of the Holy Sepulchre in Jerusalem, is complete. On Monday, March 20, 2017, a restoration team from Greece announced the completion of their work taking apart, cleaning, reinforcing and putting back together almost the entire iconic structure that is believed to mark the burial site of Jesus.
The Edicule is an elaborate stone structure that was built in 1810 and encases what many believe to be the slab Jesus' body was placed on and the original walls of his tomb. The most noticeable change is the removal of the unsightly iron cage that was placed around the Edicule in 1947 to reinforce it. During their restoration work, the group used titanium mesh and grout to strengthen the core of the structure, thus making the iron cage unnecessary.
During the painstaking restoration and cleaning process, the team uncovered the rock-hewn bench which was believed to be the temporary resting place of Jesus' body after he was crucified and before he rose again. The marble slab covering the bench hadn't been moved in more than two centuries, according to the Guardian. The restoration crew, a group of 50 specialists from the National Technical University of Athens, worked mainly overnight, so as not to interrupt visitors to the Edicule.
Numerous visitors to the restored Edicule are posting pictures of the site to their social media accounts.
Restored shrine at Jesus's tomb reopens in Jerusalem https://t.co/vlYPircS2B pic.twitter.com/66lWSa4TYR

— Kathem Jubran (@KathemJubranFX) March 22, 2017
The project was funded by a diverse group of people, including King Abdullah of Jordan, Palestinian President Mahmoud Abbas and a nonprofit from New York, the World Monuments Fund. "I would venture to say that if this intervention hadn't happened now, there was a very great risk that there could have been a collapse," Bonnie Burnham of the World Monuments Fund said. Work on restoration began last year after Israeli authorities deemed the structure unsafe.
The Church of the Holy Sepulchre is located in the Christian quarter of the walled area of Jerusalem, referred to as the Old City. The church welcomes millions of pilgrims and tourists each year due to its claim of being the site where Jesus was crucified, laid to rest and then resurrected (others, however, believe the Garden Tomb, located outside the walls of the Old City, is the site of Jesus' tomb).
Several Christian denominations—including Greek Orthodox, Armenian Orthodox and Roman Catholic—share control of the church, amidst centuries-old tensions that occasionally rear their heads. By way of finding a neutral party, a Muslim family was commissioned several centuries ago to hold the keys to the church itself.