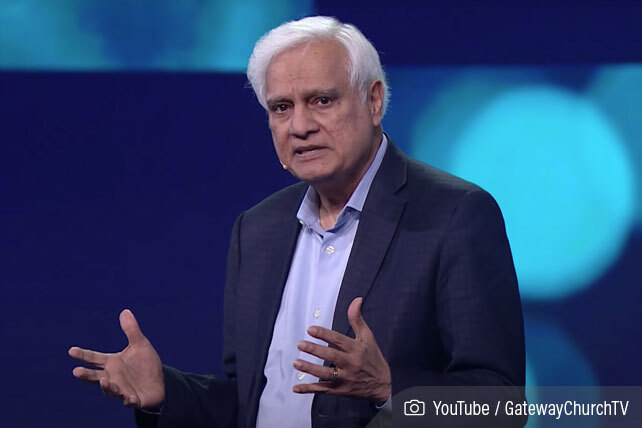 Editor's Note: Oct. 13th – This article has been updated to include additional details about the request Ravi Zacharias made to communicate with Lori Anne Thompson over BlackBerry Messenger.
You can read part 2 of the article here.
---
When news broke of sexting allegations leveled at Christian apologist Ravi Zacharias in 2017, the evangelical world collectively held its breath. And when those allegations seemed to be addressed and resolved, we let it out again. The thought that one of the most influential Christian leaders of the modern age could do something so destructive and then lie about it was troubling, to say the least.
Zacharias passed away in May of this year, and we published a handful of tributes to the late apologist who was famous the world over. In the years before his death, we had published many articles about something Zacharias had said or the way he eloquently explained a certain aspect of the Christian faith. 
When accounts surfaced again this year with new allegations of disturbing sexual misconduct on Zacharias' part, our editorial team took a renewed interest. After the Roys Report published articles exploring one allegation in greater depth, we felt it would be negligent of us to gloss over the information without at least looking into the claims being made. 
ChurchLeaders spoke to Lori Anne Thompson, the Canadian woman who accused Zacharias of preying on her and drawing her into a sexual relationship in 2016. We also spoke to Thompson's sister, Tamara Battiste; Thompson's husband, Brad; a close personal friend of the Thompsons; and a Christian scholar who looked into the matter with the help of a private investigator. ChurchLeaders also spoke to a former employee of a spa Zacharias co-owned, who wished to remain anonymous. We reached out to Ravi Zacharias International Ministries (RZIM) and the Christian & Missionary Alliance (the denomination that ordained Zacharias and that conducted an internal inquiry into his actions pertaining to Thompson's allegations starting in 2017).
While our work is not done looking into this matter, the following is what we have discovered so far. At certain points, we will refer to other outlets' articles especially in cases where we were not able to make contact with the people who gave statements or information.
Lori Anne Thompson's 2016 Allegations Against Ravi Zacharias
Lori Anne's husband, Brad, was a "huge fan" of Zacharias and his ministry prior to meeting him in person, according to a close friend of the Thompsons. In fact, Brad donated a substantial amount of money to UCB Canada, the country's largest Christian broadcasting network. While Brad was mostly interested in supporting the station's Christian music and gospel programs, his contributions also supported the airing of some of Zacharias' content on that station. Tax statements from 2015 to 2017 the Thompsons shared with ChurchLeaders show that Brad (both personally and through the electrical company he owns) donated substantial amounts (one year exceeding $100,000) to UCB, along with other charitable donations to organizations such as Samaritan's Purse and United Way.
In 2014, Brad was invited by the Chief Operating Officer of UCB Canada, James Hunt, to sponsor a table at the Businessman's Luncheon in Kingston, Ontario. Zacharias was the keynote speaker at this event. The Thompsons invited two other couples and a friend of Lori Anne's to sit at their table at the event. After Zacharias' message, Brad and Lori Anne met the apologist "briefly," and this is when Zacharias' assistant took Lori Anne's email and gave Zacharias' in exchange. Prior to this point, Lori Anne was not familiar with Zacharias and his ministry.
The second time Brad and Lori Anne met Zacharias was in June 2015. Brad says Zacharias invited the couple to RZIM's Canadian fundraiser event called Builders, which was an invitation-only event. Brad also said Zacharias invited the couple to dine privately with him the evening before the event. However, in Zacharias' account of events, he claims the couple invited him and his wife, Margie, to dinner.
Originally, Lori Anne and Brad corresponded with Zacharias in an email between the three of them. Over time, Lori Anne shared with the apologist, whom she considered a father figure and grew to trust, about her abuse-ridden childhood. Brad did not keep up with the communication and eventually, Zacharias requested he and she correspond via BlackBerry Messenger (BBM) citing security reasons. And that's when things turned inappropriate, according to Lori Anne. 
Both Zacharias and Lori Anne acknowledge that they communicated over BBM at the request of Zacharias. In a lawsuit Zacharias filed against the Thompsons in 2017, his lawyer writes: "As Plaintiff does with colleagues, certain friends and family members with whom he engages in more substantive communications, Plaintiff asked Ms. Thompson that she communicate with him via private BlackBerry Messenger ('BBM')—a more secure method of communication than e-mail given its superior security and encryption capabilities." Zacharias maintained the reason he used BBM was because he traveled overseas frequently, sometimes to countries where his Christian message would be seen as threatening, even illegal, and didn't want his contacts or phone calls to be used to put others in harm's way.
It's important to note that BBM calls are not traceable, however phone records ChurchLeaders obtained show that Lori Anne received calls from Zacharias' personal cell phone as well as BBM calls immediately following these that lasted upwards of 35 minutes.