Police estimate that 700,000 people showed up to the National Day of Prayer event organized by Angus Buchan in South Africa. On April 22, 2017, thousands of people flooded to a farm in Bloemfontein, located in the nation's Free State, to pray for South Africa.
According to Buchan, the call to prayer came as the result of being "tired of people taking the law into their own hands. We are going to call upon The Lord to bring justice, peace and hope to our beloved South Africa."
Buchan is a farmer-turned-minister who wrote a book about his life and journey to faith, titled Faith Like Potatoes. His Shalom Ministries is concerned with fulfilling the Great Commission, caring for orphans and widows, and equipping the saints for the work of ministry, according to the website.
Organizers for the massive event pulled it together in just six short weeks and estimate that 1 million people were in attendance. Aerial shots of the crowd are certainly impressive. The theme of the event was "It's Time," and advertisements for the gathering featured the latter half of James 5:16: "The effective, fervent prayer of a righteous man avails much."
Bloemfontein is located in the central part of South Africa, but the event drew people from all over the country. According to an article on enca.com, the theme of Buchan's message was not necessarily a feel-good message. The charismatic preacher challenged attendees to think about bettering their own nation, communities and families before they seek to "save the whole world."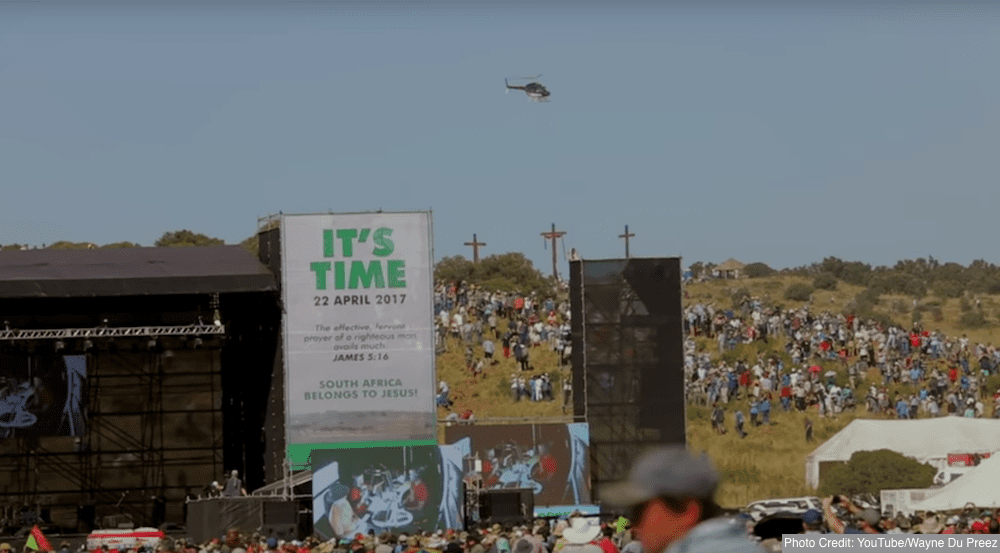 "Sir, I have a very stern word for you word from God: Put your own house in order before you try and help somebody else. Sir, if you've got nothing good to say about South Africa, then with due respect shut up! Let's see this country change in a day," Buchan said. Although the emphasis was on prayer and interceding for the nation, enca.com says the current shaky political climate and the nation's growing problem with crime were also discussed.
Several photos have emerged on social media that show the scope of the crowd.
"This is a Christian country!" Buchan bellowed from the stage. "Jesus is Lord!"