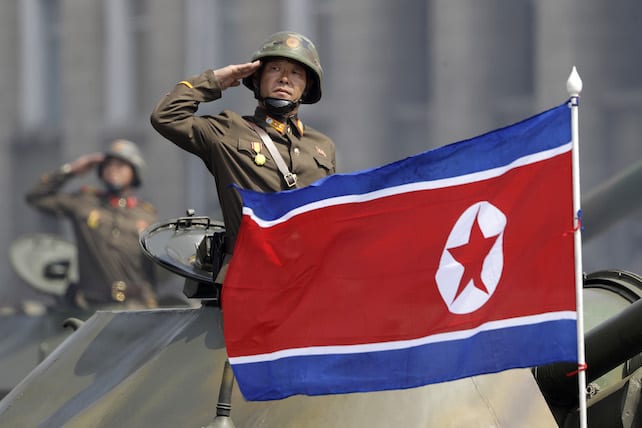 Kim Hak-song, a professor at North Korea's Pyongyang University of Science and Technology (PUST), a Christian and a U.S. citizen, was arrested on May 6, 2017. Kim is the fourth American to be arrested under North Korean leader Kim Jong-un's regime, and he likely won't be the last.
Hak-song was detained while journeying by train from Pyongyang to China's border town Dandong. In a message posted by Kim Hak-song on a Korean-Brazilian church's website in Sao Paulo, he identified himself as a Christian missionary trying to start an experimental farm at PUST to help North Korean people learn to become self-sufficient.
Hak-song is the second professor from PUST to be detained; fellow professor Kim Sang-duk was detained while trying to fly out of the country in April. The university was founded in 2010 by evangelical Christians, and the faculty is composed of many volunteers who are also Christians.
Fifty-something-year-old Kim Hak-song joins his fellow professor, 22-year-old student Otto Warmbier, and 62-year-old missionary Kim Dong Chul, to become the fourth U.S. citizen in North Korean prisons. Another missionary, a Canadian pastor named Hyeon Soo Lim, is also currently serving a hard labor life sentence.
When Professor Kim Sang-duk was arrested, PUST released a statement saying the arrest was "related to an investigation into matters that are not connected in any way to PUST." It is highly possible the two professors were arrested for any work they were doing outside of the university that could have been perceived as having an agenda to proselytize North Korean citizens.
In a short statement, the U.S. state department has acknowledged this latest arrest. Open Doors, a nonprofit organization committed to serving persecuted Christians, ranks North Korea as the worst persecutor of Christians in the world. Open Doors reports that church meetings, owning a Bible and even prayer are against the law under Kim Jong-un's regime.
The regime has cited "hostile acts" against it as the reason for Hak-song's detention. The timing of the arrest could point to increased tension in U.S.-North Korea relations as U.S. leaders try to diffuse nuclear threat.