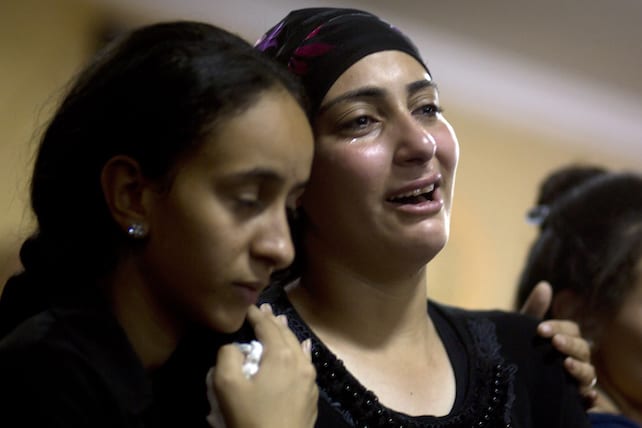 New details have emerged surrounding the May 26, 2017, attack on Coptic Christians in Egypt. A chaplain named Father Rashed spoke to Breitbart News on Sunday, sharing the unsettling details he had gathered about the attack after ministering to the survivors.
Rashed said the victims weren't merely shot while inside the bus. The gunman forced the victims off the bus then asked them—men, women and children—to renounce their faith and profess belief in Islam. Every single one of the 29 victims refused to give up his or her faith in Jesus, Rashed told Breitbart.
Magdy Malek, an Egyptian lawmaker who visited victims in the hospital, told the New York Times that the gunman's intent seemed to be to kill everyone, but vehicles seen in the distance deterred the terrorists from continuing.
On Friday evening, Egyptian President Abdel-Fatah el-Sisi addressed the nation in a broadcast, highlighting the global importance of Egypt's latest slew of terror attacks. "If Egypt falls, so will the rest of the world." According to the Guardian, shortly following the broadcast Egyptian fighter jets struck camps near Derna in Libya, where the people responsible for the attack are believed to have trained.
On Saturday, Islamic State claimed responsibility for the attack via its news agency, Amaq.
Despite the state of emergency President Sisi put into place after the Palm Sunday attacks, violence continues to escalate against Coptic Christians. The attacks against Copts have made waves throughout the western world especially, with notable leaders such as Pope Francis and President Trump offering statements.
Pope Francis had the following statement on his Twitter profile: "Let us pray for our Coptic brethren in Egypt who were killed because they did not want to renounce the faith." The leader of the Catholic church also used the word "martyrs" to describe the victims.
In a statement released the day of the attack, President Trump labeled it "merciless," but it also served to steel "our resolve to bring nations together for the righteous purpose of crushing the evil organizations of terror, and exposing their depraved, twisted and thuggish ideology."
President Sisi hinted to the fact that the world is watching Egypt right now as we live through what Pope Francis describes as an age with more Christians martyrs than the age of the early church.