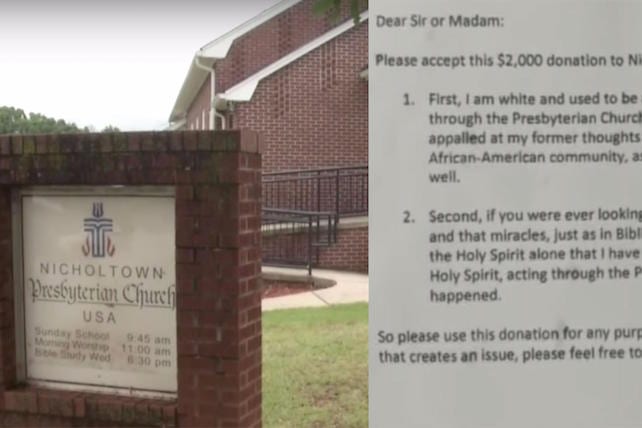 Reverend Michael Sullivan of Nicholtown Presbyterian Church was surprised when he received a letter in the mail from an anonymous sender. Along with a $2,000 donation, the envelope also contained an apology letter from a "terrible racist" who had found Jesus and was clearly repentant.
The anonymous donor, a self-identified white person and former racist, explained the change of heart he or she has undergone due to the saving power of Jesus. "It is thanks to Jesus and the Holy Spirit alone that I have been cleansed of my former racism," the letter reads.
The donor also mentioned the work God accomplished through the Presbyterian Church as leading to his or her transformation. The letter explains the donation was offered "as a heartfelt apology to the African-American community, as a sign of God's love for you, and as a sign of my love for you as well." The donor also mentioned he or she is "appalled" by their previous mindset.
Reverend Sullivan's reaction to the donation was one of wonder: "Wow, look at how God works." The church in Greenville, South Carolina, will most likely use the money to fund a program to transport children to and from Sunday services.
In a time when the U.S. is experiencing acute racial tensions, it's encouraging to hear of the transformative power of the gospel being applied in this area. The story of this repentant racist reminds me of Peter learning that God is not partial to any tribe or ethnicity in Acts 10. In a similar way, this anonymous donor learned that no race is deserving of scorn or prejudice.
In the clip below, you'll hear a beautiful story about the saving grace of God and the overcoming nature of the gospel. It's a timely reminder that there is no mindset or problem we face—whether individually or as a nation—that Jesus' blood cannot overcome.