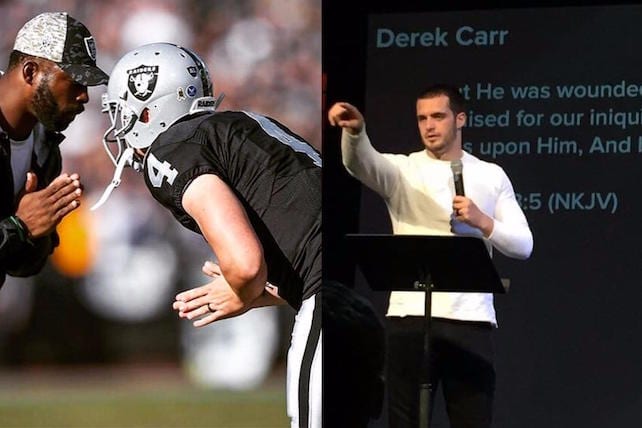 Derek Carr is the quarterback of the Oakland Raiders, a husband and a Christian trying to live out biblical principles. It is this commitment that prompts Carr to tithe 10 percent of the $25 million annual salary he's been offered.
While Carr is happy about being able to play football for a living and the new contract he's been offered (five years and $125 million), he's more excited about the impact his tithe is going to have on the world and that "this money is going to help a lot of people." Speaking to CBS Sports, Carr says, "The first thing I'll do is pay my tithe like I have since I was in college. Giving $700 on a scholarship check. That won't change. I'll do that."
A brief glance through the football player's Twitter posts reveals he is not hesitant to talk about issues of faith. He regularly retweets things like memes with Smith Wigglesworth quotes and posts Bible verses.
In a video published by Increase Stories, Carr talks about the double life he used to lead, before God used his now-wife to call out his hypocrisy. Carr says he felt like God put his foot on his neck and told him, "Hey, I've got special plans for you, and you're screwing it up." After that moment with God, Carr confessed to his college football teammates that he'd been saying he was a Christian, but wasn't really acting like it. He explained that he'd asked God for his forgiveness, and said "now watch how I live my lifestyle."
The commitment to tithe is just part of Carr's living out a Christian lifestyle. In an interview posted by the NFL, Carr tells fans, "It's very important for me for the kids out there that are watching this…for them to know that I never chase the money in this whole process… I try to be the best version of myself every single day." The outspoken Christian has also uses his voice to speak about God and encourage people in churches.
However, after all the talk of setting a good example and using his money to help others, there is one thing that Carr will "splurge" on, and that is Chick-Fil-A. He even made the announcement "official" via Twitter. To which Dan Cathy, the CEO of the wildly popular fast food chain, effectively said "Thank you."