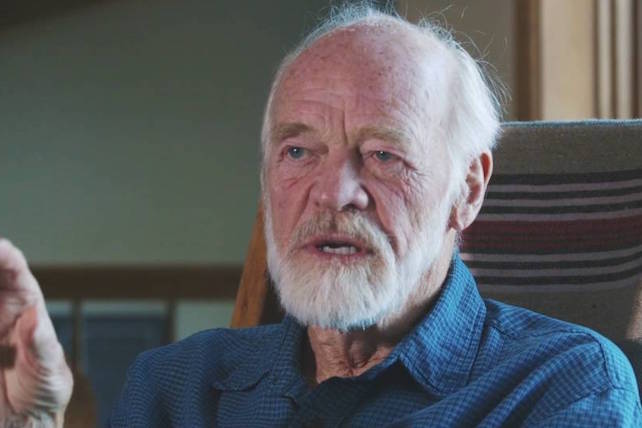 UPDATE July 13, 2017
Christianity Today reports Peterson has retracted some of the statements from his interview with Jonathan Merritt.
Peterson wrote the following statement Thursday afternoon:
Recently a reporter asked me whether my personal opinions about homosexuality and same-sex marriage have changed over the years. I presume I was asked this question because of my former career as a pastor in the Presbyterian Church (USA), which recently affirmed homosexuality and began allowing its clergy to perform same-sex weddings. Having retired from the pastorate more than 25 years ago, I acknowledged to the reporter that I "haven't had a lot of experience with it."
To clarify, I affirm a biblical view of marriage: one man to one woman. I affirm a biblical view of everything.
Peterson also clarified what he meant by his response to the question of whether he would perform a marriage for a same-sex couple.
When put on the spot by this particular interviewer, I said yes in the moment. But on further reflection and prayer, I would like to retract that. That's not something I would do out of respect to the congregation, the larger church body, and the historic biblical Christian view and teaching on marriage. That said, I would still love such a couple as their pastor. They'd be welcome at my table, along with everybody else.
Addressing the statement that the homosexuals he knows have "as good a spiritual life as I do," Peterson had this to say:
When I told this reporter that there are gay and lesbian people who 'seem to have as good a spiritual life as I do,' I meant it. But then again, the goodness of a spiritual life is functionally irrelevant in the grand scheme of things. We are saved by faith through grace that operates independent of our resolve or our good behavior. It operates by the hand of a loving God who desires for us to live in grace and truth and who does not tire of turning us toward both grace and truth.
The original article we published on July 12, 2017, follows.
---
Eugene Peterson, author of The Message Bible and respected voice in the evangelical community, recently sat down with Jonathan Merritt of Religion News Services to answer some very pointed questions on cultural hot-button issues. Among those answered: Peterson's evolving view on homosexuality in the church.
"I wouldn't have said this 20 years ago, but now I know a lot of people who are gay and lesbian and they seem to have as good a spiritual life as I do," Peterson told Merritt. While he admits during his time as a pastor (Peterson spent 29 years pastoring a Presbyterian church he founded in Bel Air, Maryland) he didn't have many encounters with homosexuals, he had a couple of key interactions with them in his church.
One such interaction was with a young man who wanted to take on the music minister position. A gifted musician and high school teacher, this young man had grown up in Peterson's church. While asking for the job, he told Peterson he was gay. Peterson was proud of his congregation, who didn't make "any questions about" his hiring the young man. In Peterson's estimation, this young man "was a really good musician" and the right person for the job.
Peterson feels the church is in a time of transition concerning its stance on homosexuality. "I think that kind of debate about lesbians and gays might be over," he says. As far as whether homosexuality is right or wrong, Peterson doesn't have a definitive answer. "I don't think it's something that you can parade, but it's not a right or wrong thing as far as I'm concerned." In Peterson's eyes, it's time to lay the debate down. If people don't agree on a church's decision to include homosexuals in the congregation, he says, "they'll probably just go to another church." When asked if he would officiate a wedding ceremony for a gay couple, he said he would.
Peterson's curious answer to this question raises another, age-old question: What exactly is the purpose of the church? Is it to be a sort of support and good-works club for people who have weeded out blatant sin in their lives, or is it to be a place where people from different socio-economic backgrounds, philosophies, cultures and perhaps even sexual orientations gather to seek God and his will together? Judging by his responses in the interview, Peterson appears to believe it is the latter choice.
Moreover, the 84-year-old scholar and author has expressed, both in his interview with Merritt and also on our recent podcast interview with him, his belief in the importance of pastoral relationship in churches. He is no fan of the megachurch, where he feels pastors have given into a consumer mentality—thinking more about how to sell people on coming to church and less on how to build relationship with them. In a megachurch, Peterson says, "there's no relationship with anybody." He goes on: "I'm just upset by the fad-ism of the megachurch, but I just don't think they're churches. They're entertainment places."
True church, according to Peterson, is "relational," where people know the other people they are praying with and for. And perhaps a cue from the ChurchLeaders interview with Peterson explains his stance on homosexuality a bit better. When talking about the role of a pastor, Peterson said, "Conversation is one of the most important things pastors need patterns on how to develop—instead of telling people what to do, asking them what they're doing." When this advice is applied to a pastor ministering to a homosexual, Peterson seems to be suggesting that instead of telling them their lifestyle is wrong or sinful and they should change, the pastor should first get to know the person, hear his or her story, and engage them in relationship.
Relationship is obviously very important to Peterson, who continues to maintain contact with people through letter writing, despite his decision to leave public life, as Merritt describes.
After reading through the interviews, I cautiously boil down Peterson's responses this way: Whether the church decides to welcome homosexuals in our congregations or not, whether our denominations choose to ordain them or not, and whether or not we vote to allow them the same rights as heterosexual couples, the bottom line is we should be doing what we can to build relationship with them. He doesn't seem to be interested in making a blanket statement on whether or not homosexuality is a sin. Instead, he shares his experience and leaves it to the reader to make his or her own mind up about the issue.