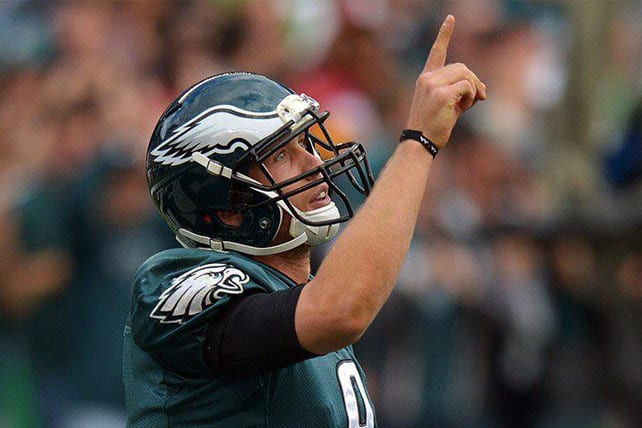 Nick Foles, the starting quarterback for the Philadelphia Eagles in Super Bowl LII, might be about to play in the biggest game of his career, but he's preparing for something even bigger; becoming a pastor.
Foles is taking online seminary classes through Liberty University with the goal of one day becoming a pastor in a high school.  
"When I speak to (students), that's such a time of young men and young women's lives that there's a lot of things that are thrown at them. So much temptation in this world, so much going on with social media and the Internet that you want to talk to them and address it, and share all the weaknesses I have because I've fallen many times," Foles added. "It's something I want to do. I can't play football forever. I've been blessed with an amazing platform and it's just a door God has opened, but I still have a lot of school left and a long journey."
In fact, Foles almost quit the NFL to become a pastor but he and his wife prayed about it and decided to give professional football one more shot. And here's something a lot of the reporters covering this Sunday's game in Minneapolis have a hard time understanding: Nick Foles ranks being a pastor right up there with being the starting quarterback in the Super Bowl against the New England Patriots.
"A lot of people look at this moment and say, 'Wow, aren't you super excited that you made that decision and you're in the Super Bowl, what if you wouldn't have?'" Foles said Thursday. "But I look at it this way: It wasn't a matter of that. I'm grateful to be up here, I'm grateful to have this opportunity to speak and play in this game, but at the same time, if I would have made the other decision my life wouldn't have been a loss. I would have gone and done something else and glorified God in that instance."
Foles has spoken often this week about his faith, as have many Eagles players like the man who Foles replaced, Carson Wentz. Wentz suffered a season ending knee injury in December and is forced to watch the Super Bowl from the sidelines, but you get a sense that he's enjoying what God is doing, not on the football field, but in the lives of those who call themselves Christians. "It's crazy how it has all unfolded, but God has had a plan for him through this whole thing, and he knows that," Wentz said.

While few teams would want to go into a Super Bowl with a quarterback who was a backup less than two months ago, the Eagles have confidence in Foles because his demeanor never changes.

"Nothing rattles Nick at all," quarterbacks coach John DeFilippo said. "He can be going through a tough stretch, going through a tough couple series, and he's the same guy when he's throwing four touchdowns. That's a unique quality to have as a quarterback in the National Football League. With Nick Foles, you don't have to worry about this stage being too big for him."
Foles said, "Every time I play the game, every time I speak, it's to glorify Him."  
Maybe that's the secret. Although he's playing the most important position on the field, in the biggest game in sports, with more than 100 million people watching, all Foles sees is God.