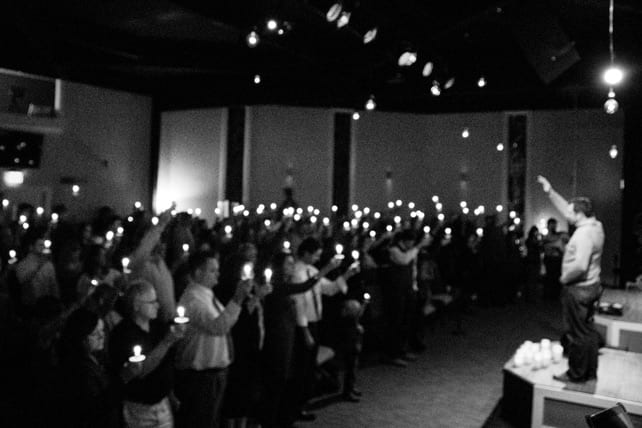 As America mourns more loss of innocent, young life in a senseless school shooting, pastors around the country are thinking about what to say to their congregations on Sunday.
The reaction from many of the pastors we spoke to was the same—"not again"—as they struggled with what to say about God's love and our culture in the face of such evil.
All of the pastors we spoke to were planning to address the shooting in their Sunday worship services.  
The school shooting occurred as Corky Calhoun, the Senior Pastor of Georgianna United Methodist Church in Merritt Island Florida, was preparing for a Lenten service of repentance.  He sent an email to his congregants that will also be the basis for his remarks on Sunday. He titled the email Solidarity in Suffering.  
"The Bible tells us that the enemy comes to steal and destroy, but I want to assure us all, that the enemy does not get the last word. I have been focused today on Psalm 34:18 "The Lord is close to the broken hearted and rescues these who are crushed in spirit" (NLT). I think broken hearted and a crushed spirit adequately describes what many of us are feeling right now, but I also know the Lord is close!

I have been in contact with pastors and leaders I know in Broward County and have pledged our commitment to stand in solidarity with them as we suffer this violation together. Prayer is what binds us and allows to us to enter the pain of one another. So, I am asking you, our church family to be in prayer for the Parkland community, as they begin the long journey of grief. May the God of all comfort, hope and peace greet the victim's families with each new hour."

Pastor Calhoun serves as a volunteer Chaplain with the Brevard County Sheriff's Office.
Pastors Ask for Prayer after School Shooting
Prayer is on the mind of Dr. Ronnie Floyd, President of the National Day of Prayer and Senior Pastor at Cross Church in Springdale, Arkansas.  He said he'll call the church to prayer for those affected by the tragedy in Florida and move congregants to pray for the schools, faculty members and administrators of all schools in their region.
Ben Brooks pastors Westside Oaks in Colorado Springs, Colorado. He'll also be emphasizing prayer "asking for God's mercy and comfort to rest on those affected by the shooting as well as praying, 'Thy Kingdom come, thy will be done, on Earth as it is in Heaven'"
He wants those in his church to believe that their prayers have the power to prevent this from happening again and the power to shift something in society that is allowing evil to run rampant.
Some pastors might be wondering if they should mention the tragedy.  Retired pastor, Dr. Joe McKeever, said in 1995, the Sunday after the bombing of the Murrah Federal Building in Oklahoma City, he was out of town so a guest speaker was in the pulpit.
"The next week I received an angry letter from someone who had visited in our congregation that day. 'Not a thing was said from the pulpit about that,'" the letter read. "And she felt it showed a complete disconnection of our leadership with what was happening in the world."
He cautions many in the congregation will conclude the pastor's silence might mean he doesn't care adding "that's an awful indictment against a spiritual leader."
Pastor Daniel Fusco of Crossroads Community Church in Portland, Oregon, agrees pastors need to address this tragedy with their congregation, but not to spend the whole sermon on it. "The thing to emphasize in the midst of tragedy is the gospel," Fusco asserts. "The problem is sin. The solution to sin is the gospel," he goes on, emphasizing a pastor's obligation to preach the gospel this Sunday. He adds to these comments in a Facebook video. 
Adding Actions to Prayers
In addition to praying, Thomas McKenzie, Pastor of Church of the Redeemer in Nashville, Tennessee, wants his church to take an active role in seeking repentance.    
"Events like this, along with other horrors such as abortion, the death penalty, the high rates of suicide and the opioid crisis, are part of the American culture of death. Our culture accepts these things as the price of our selfishness lifestyles. If it were not so, we would repent and seek to change. But we don't. So I need to repent of my participation in the Culture of Death, and I called upon my congregation to do likewise. As we ourselves are repentant, we can do the hard work of taking a message of Life in Christ to others. The message of Life must stand against the death cult that we find around us."
Greg Stier is all too familiar with school shootings.  The Columbine High School Massacre caused him to leave the ministry. His wife is a public school teacher in the same school district as Columbine and he knew many teens who went to Columbine.