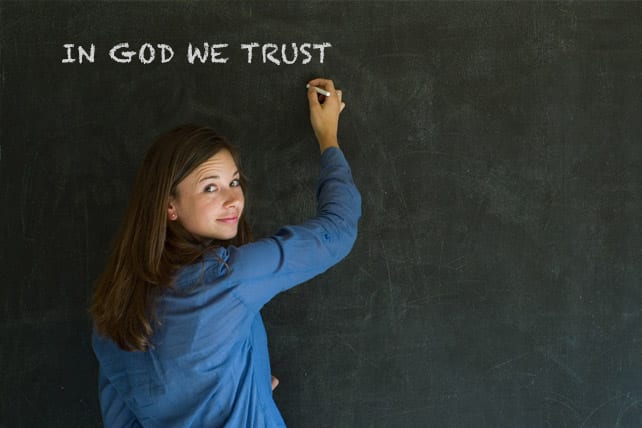 On Wednesday, February 21, 2018, Florida's House of Representatives passed HB 839, a measure to display the words "In God We Trust" "in a conspicuous place" in schools across the state. The bill passed as students and activists calling for stricter gun control rallied outside the chamber building.
HB 839 was sponsored by Rep. Kimberly Daniels, a Democrat from Jacksonville and a ministry leader. The phrase "In God We Trust" is the nation's motto as well as the state of Florida's motto.
Before the sweeping 97-10 vote in favor of passing the bill, Rep. Daniels addressed her peers and explained her reasoning behind it.
"What would happen if we remove God from our public forums and things we do every day?" Daniels started. When we do this, she says, "we remove hope. Few would disagree with me that God is positive. He's not a Republican and he's not a Democratic. He's not black and he's not white."
Daniels was not deaf to the activists outside the chamber, either. She said, "It is not a secret that we have some gun issues that need to be addressed. But the real thing that needs to be addressed are issues of the heart."
She conceded she believes assault weapons "in the hands of young people" are "deadly." However, "What's more deadly—and we have to get to the heart of things—are video games, that children watch all the time… They literally become virtually trained to be assassins." Daniels agrees we need to "deal with the gun issues," but she also feels getting to the heart of the matter would be to also "deal with the things our children are continuing to watch every day."
Daniels visited a prison the day before and shared an insight with the House. Walking up to the gate, she saw the phrase "In God We Trust." "Does a child have to wait until they get to prison to see 'In God We Trust'?" she asked. Further, she noticed these same state prisons have chaplains to serve the spiritual needs of the inmates, yet our schools don't have similar things in place for students.
Daniels also got personal with her fellow representatives, arguing that if they rely on the support of the church to get elected, they cannot then take God out of the equation once they get to the legislative floor and attempt to represent the people who elected them.
"We cannot put God in a closet when the problems that we're having are bigger than us," Daniels said, commenting on the sheer complexity of the gun control debate the nation is currently embroiled in.
Finally, Daniels shared a vision she experienced in which she believes God spoke and said, "Do not politicize what has happened in Florida. And do not make this a thing of division. This is a time for the Republicans and this is a time for the Democrats to meet because there is an issue."
However well-intentioned Daniels' bill may be, some are not happy. A lot of criticism has been levied at the sentiment of "thoughts and prayers" for those affected by the shooting.
Student Emma Gonzalez said at a rally on Saturday, February 17, 2018, "If all our government and President can do is send thoughts and prayers, then it's time for victims to be the change that we need to see."
Rep. Daniels is also getting called out on social media for pushing this bill instead of doing something more tangible like pushing for stricter gun control measures.
As believers, we know that faith without works is dead, which is why we can't stop at prayer. We need to move on the convictions God gives us in prayer. And, more than anything, we need to humbly admit, as Rep. Daniels suggested, that the problems we face are too complex for us to face on our own. We need God's help.
So far only Florida's House of Representatives has voted on HB 839. In order to pass into law, it must also pass in the Senate. If the law passes, it will come into effect July 1, 2018.