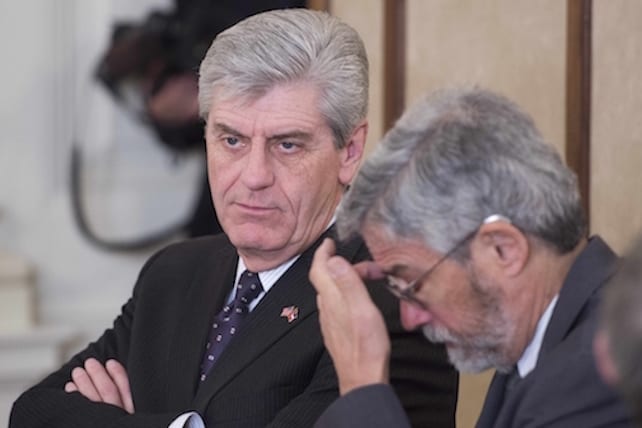 Update March 20, 2018
Gov. Phil Bryant of Mississippi followed the lead of the state's lawmakers and signed into law on Monday a measure that would ban almost all abortions after 15 weeks of pregnancy. He said by signing the legislation he was "saving the unborn."
It was quickly hit with a temporary restraining order by a federal judge after the state's only abortion clinic immediately filed suit.
The bill, labeled the Gestational Age Act, was passed overwhelmingly by both chambers of the Republican-controlled State Legislature this month.
---
The Mississippi legislature has approved the nation's most restrictive abortion law, banning abortion after 15 weeks of gestation.
Gov. Phil Bryant has signaled that he will sign the bill. "As I have repeatedly said, I want Mississippi to be the safest place in America for an unborn child," he wrote on Twitter. "House Bill 1510 will help us achieve that goal."
The bill changes the state's current law prohibiting abortion after 20 weeks of pregnancy to 15 weeks. It includes exceptions if the woman's life or a "major bodily function" is threatened or if the preborn child has a health problem that would mean it likely wouldn't survive outside the womb. It doesn't include exemptions in cases of rape or incest, according to the AP.
The Mississippi Center for Public Policy helped craft the bill and praised lawmakers for passing it.
Acting President Jameson Taylor said the bill protects maternal health and "further(s) the state's interest in protecting unborn human life." He added that the Center is "thrilled" for having played a role.
Pro-Life Mississippi said fetuses in the womb "deserve the right to life, which is supported by this bill."
The group said in a statement that it appreciates legislators' efforts to pass anti-abortion bills "that are grounded in science and protect human life."
There will be challenges to the law going into effect.
Jim Hood says he expects "an immediate and expensive legal challenge" to the bill. The Democratic attorney general notes that measures in other states banning abortions have been struck down.
The most recent cases before the U.S. Supreme Court came from North Dakota where lawmakers passed the "fetal heartbeat" law. The measure banned abortions as soon as a heartbeat is detected in the fetus—as early as six weeks into pregnancy. Arkansas lawmakers passed similar legislation that banned abortions at 12 weeks. In both cases the High Court refused to review lower court rulings that overturned the laws.  
Mississippi's only abortion clinic, Jackson Women's Health Organization, has already threatened to sue.
Clinic owner Diane Derzis told the Clarion Ledger that the bill means the clinic will have to refer people out of state and "we will be planning to sue."